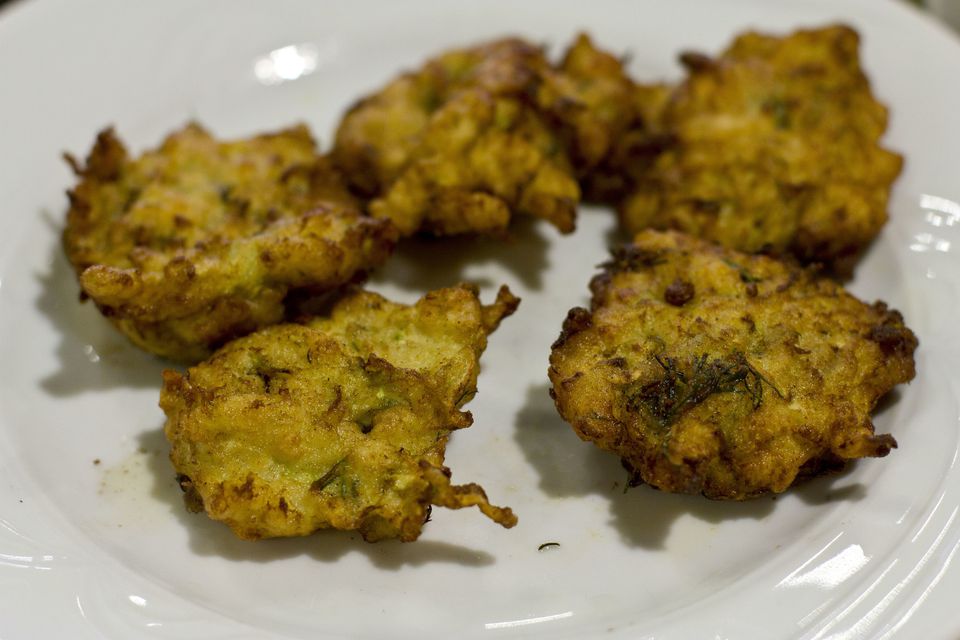 Mucver is like a fritter or a vegetable pancake. It is a Turkish favorite and is served as a hot appetizer, accompanied by a yogurt dip. Try Turkish cacik or a yogurt garlic sauce as dip for mucver.
2 zucchini (grated, about 4 cups)
2 carrots (grated, about 1/2 cup)
2 tablespoons dill weed (finely chopped)
3 tablespoons yellow onion (grated)
1/2 cup feta cheese
1 cup flour
3 eggs
1 teaspoon salt
1/2 cup olive oil for frying (or more as needed)
Grate zucchini and place in a cheese cloth or absorbent paper towel. Squeeze out excess water. Place zucchini in a large bowl and add carrots and onions and toss gently.
Add dill weed, feta, flour, and eggs. Mix well. The mixture will become a thick batter.
Heat 1/2 cup olive oil in frying pan. Pour 2 tablespoons of batter for each fritter. Fry on each side until golden brown.
Drain fritter on paper towels and serve immediately.
Nutritional Guidelines (per serving)
Calories
660
Total Fat
52 g
Saturated Fat
12 g
Unsaturated Fat
32 g
Cholesterol
231 mg
Sodium
811 mg
Carbohydrates
35 g
Dietary Fiber
6 g
Protein
17 g
(The nutrition information on our recipes is calculated using an ingredient database and should be considered an estimate. Individual results may vary.)