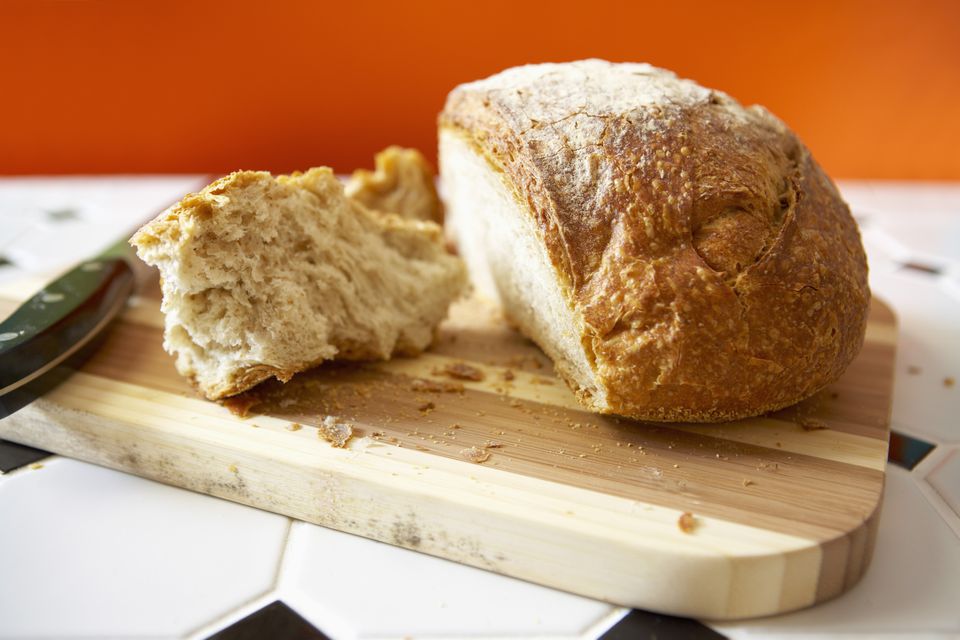 Muffaletta bread is essentially an Italian bread and you can certainly substitute a good Italian bread from a bakery when making this sandwich. The bread's real claim to fame is it's form. You shape it into a round flat loaf, it comes out of the oven about 8 inches in diameter and about 1 1/2 inches high. It turns out these dimensions are the perfect amount of bread for a Mufalletta Sandwich. If you use a commercial loaf of Italian you'll end up either throwing away part of the bread or having more bread than the sandwich needs. 
2 cups bread flour (see note below)
2 1/2 cups all-purpose flour
1 1/2 cups water
1 tablespoon salt
1

tablespoon

. sugar
2

tablespoons 

olive oil
2 teaspoons quick/rapid-rise yeast
1. Using the dough hook on your stand mixer*, combine all-purpose flour, 2 cups bread flour, water, salt, sugar, olive oil, and yeast in the bowl of a stand mixer - scraping down sides as needed - at low speed until blended. Add additional flour if needed, but note that dough should be a bit sticky.
2. Increase speed to medium and knead for eight minutes.
3. Turn dough out onto lightly floured board* and form into a ball.
4. Clean and dry mixing bowl and spray lightly with non-stick cooking spray. Place dough in bowl, seam-side down, and spray top lightly with oil.
5. Cover bowl with plastic wrap and allow to rise until doubled in bulk, about 1 1/2 hours.
6. Turn dough out onto the floured board and knead for 2 minutes. Divide in two, and form into balls.
7. Let dough rest for 15 minutes then flatten out into discs 7 - 8 inches in diameter.
8. Place each disc on a baking sheet, and poke all over with a fork.
9. Cover with plastic sprayed with oil and allow to rise until doubled in bulk, about 1 1/2 hours.
10. If you have a baking stone* place it on a rack in the center of the oven. Preheat the oven to 425F.
11. Bake each loaf for 20 to 25 minutes until well-browned. Cool on a wire rack completely before slicing.
Note 1: You can use only all-purpose flour if you wish, but the bread flour adds a bit more chewiness.
Note 2: This bread freezes well if wrapped in a couple of sheets of plastic and stored in a zip-lock freezer bag.
*Note: If you'd like to see a list of the equipment and books I rely on to bake bread check this list out.
Associated recipes...
Nutritional Guidelines (per serving)
Calories
138
Total Fat
7 g
Saturated Fat
1 g
Unsaturated Fat
4 g
Cholesterol
0 mg
Sodium
1,226 mg
Carbohydrates
18 g
Dietary Fiber
2 g
Protein
2 g
(The nutrition information on our recipes is calculated using an ingredient database and should be considered an estimate. Individual results may vary.)