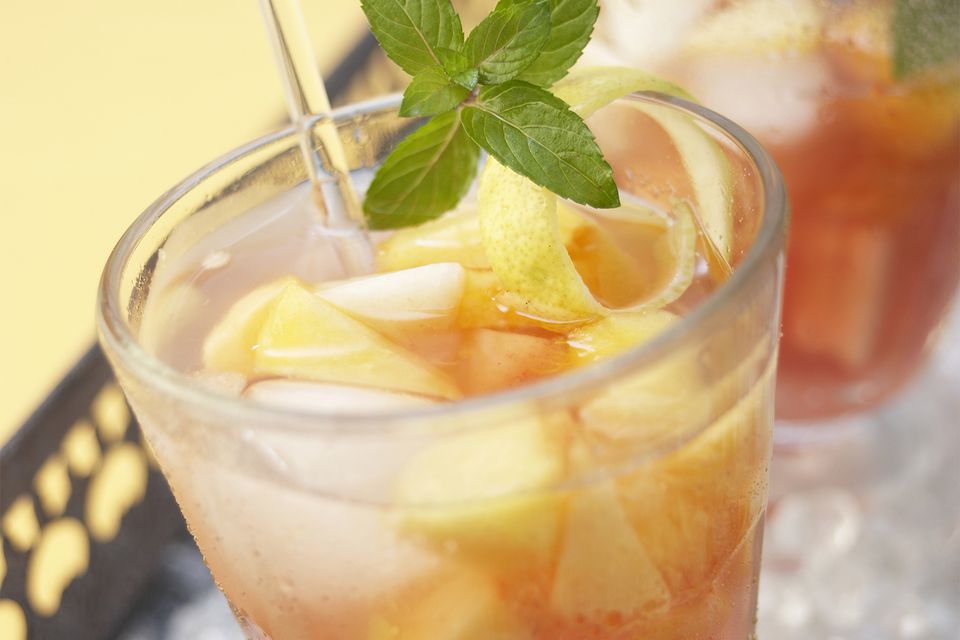 One of the best bourbon cocktails of all time is the Old-fashioned, there is no debating that. What if you are in the mood for something just a little bit different? That is where the New Old-fashioned comes into play.
The true beauty of popular stick drinks like the Old-fashioned, Mojito, and Caipirinha is that the base can be ​an inspiration for a great variety of drinks. The only thing that you really have to do is switch out the muddled fruit and an entirely different cocktail is born. That is the case with this recipe in which the orange and cherry are swapped out for fresh peach and blackberry.
These two summer fruits make the New Old-fashioned the ideal warm weather drink and will be best during the summer season. Don't let that stop you, however, use this as an inspiration to search the produce market for other ways to make your New Old-fashioned truly unique no matter what time of year it is. There are even a few examples below the recipe to get you started.
Muddle the simple syrup, bitters and 1 peach slice in the bottom of an old-fashioned glass.
Add the bourbon, ice cubes, 1 peach slice, the blackberries, and sparkling water.
(Recipe Courtesy: Woodford Reserve Bourbon Whiskey)
More Tips for Making the New Old-Fashioned
Woodford Reserve is a great bourbon for any Old-Fashioned. This whiskey has a perfect balance of flavors, not too spicy but in no way dull.
It is these characteristics that make it ideal for the clean taste of simple drinks like the Old-Fashioned. 
You'll also find that Woodford is an approachable bourbon. It is one that both newbies to and aficionados of the bourbon world can enjoy because it's both a smooth introduction and a flavorful favorite. If you have to serve a single bourbon to a diverse group, Woodford is one of the best options.
Also, keep an eye out for any of the distillery's limited edition bottles. Typically released annually in late fall, the Master's Collection bourbons are Master Distiller Chris Morris' experiments in various aspects of whiskey production. From 2015's 1838 White Style Corn to 2010's Maple Wood Finish, every bourbon is a unique experience and drinks like the New Old-Fashioned are ideal for a little taste test.
Use the New Old-Fashioned to explore peach varieties. Unlike blackberries which are relatively uniform, peaches come in many varieties that fill the produce markets during the fruit's seasonal peak in summer. A drink like this is the perfect excuse to taste the different peaches available. It might even surprise you that it's much like tasting bourbon: each is a little different but they're all distinctly peach (or bourbon).
The 'sparkling water' is open for interpretation. Sparkling water, soda, mineral water, even club soda; there are many options for the soda in this cocktail. Essentially, if it's clear and sparkling, it will work in the recipe. 
Don't rule out ginger ale or lemon-lime soda, either.
I've personally found ginger ale to be a favorite here and, besides, it's just a splash. Go ahead and finish this drink with whatever clear soda you have open because you really cannot go wrong.
How Strong is the New Old-Fashioned?
There is very little added to this cocktail's volume that will bring it down from the bottling strength of the whiskey. We do factor in ice and that touch of soda, but in reality, the New Old-Fashioned is not much different than drinking whiskey on the rocks.
This cocktail is designed to be sipped slowly and every taste savored. At an alcohol content of around 30% ABV (60 proof), you will certainly want to relish every moment.
Nutritional Guidelines (per serving)
Calories
448
Total Fat
2 g
Saturated Fat
0 g
Unsaturated Fat
0 g
Cholesterol
0 mg
Sodium
16 mg
Carbohydrates
64 g
Dietary Fiber
19 g
Protein
6 g
(The nutrition information on our recipes is calculated using an ingredient database and should be considered an estimate. Individual results may vary.)