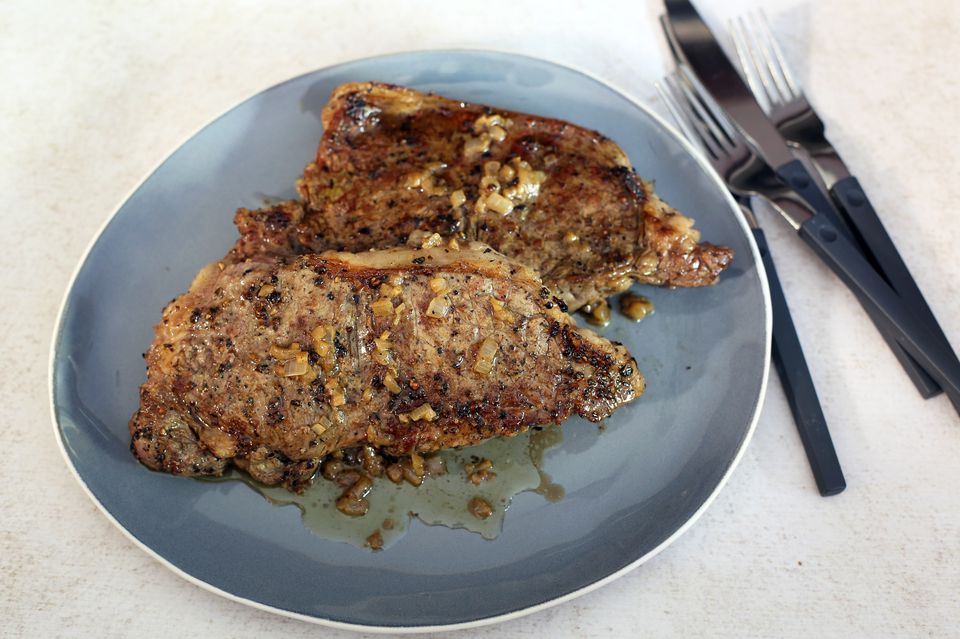 These steaks are pan broiled and then served with a flavorful Bourbon sauce. The simple sauce is a seasoned bourbon, butter, and mustard mixture, perfect for drizzling over the steaks.
The original recipe called for 2 cloves of minced garlic to be rubbed over the steaks with the pepper. I decided to use garlic powder instead of minced garlic because I felt the fresh garlic would char and overpower the steak. Use 1 or 2 cloves of finely minced garlic on the steaks if you prefer. 
The recipe is easily scaled down for two people.
Serve the steaks with baked potatoes and a tossed salad or steamed vegetables. 
4 sirloin strip steaks (about 1-inch thick)
1 tablespoon peppercorns (black, coarsely crushed)
1 teaspoon garlic powder (or 2 cloves finely minced garlic, see the note above)
1/4 teaspoon kosher salt
Bourbon Sauce:
1 stick butter (4 ounces) 
2 tablespoons onion (chopped)
1 or 2 cloves garlic minced)
2 tablespoons Kentucky bourbon
2 teaspoons Worcestershire sauce
1/2 teaspoon dry mustard
Dash Tabasco sauce
Trim excess fat from steaks. Press crushed peppercorns and garlic powder into both sides of steaks and let stand at room temperature for an hour.
Heat a heavy iron skillet over high heat. Oil the skillet lightly or grease it with a bit of the steak fat trimmings.
Sprinkle about half of the salt in the skillet. Sear steaks quickly on one side. Remove and add remaining salt to skillet. Sear steaks on other side. Reduce hat to medium and continue to cook until done to your liking. See Also: Meat Temperature Chart
Remove the steaks to a warm platter and tent loosely with foil to keep warm while you make the sauce.
Pour off excess fat from skillet. Melt butter over low heat; add onion and garlic and sauté until tender. Add bourbon, Worcestershire sauce, dry mustard, and Tabasco. Blend well and simmer for 2 minutes.
Pour the sauce over steaks just before serving.
Nutritional Guidelines (per serving)
Calories
431
Total Fat
30 g
Saturated Fat
17 g
Unsaturated Fat
10 g
Cholesterol
123 mg
Sodium
238 mg
Carbohydrates
14 g
Dietary Fiber
1 g
Protein
24 g
(The nutrition information on our recipes is calculated using an ingredient database and should be considered an estimate. Individual results may vary.)