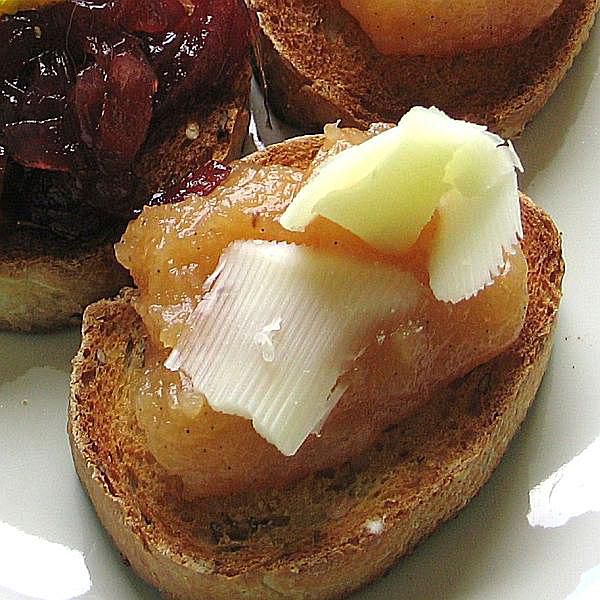 Recipes That'll Knock Their Socks Off
Eastern European Recipes
Some of the simplest appetizers to make are toasted slices of baguette with sweet and savory toppings like my Quince-Pear Butter Crostini with kashkaval cheese, or Red Onion Marmalade Crostini.
 
And what's a party without a little sauerkraut among friends? Try this Sauerkraut Balls Recipe with spicy brown mustard or homemade horseradish that will bring the strongest man to his knees.
Vegetarian Recipes
Whether you're vegetarian or not, you'll need a bean dip for the big day. Avoid the sodium-laden canned stuff and try one of these quick-and-easy vegetarian bean dip recipes.
 
Or, try some Meatless "Buffalo Wings" made from seitan and cooked up with hot sauce and margarine for a traditional spicy flavor.
 
Spicy eats and parties go hand-in-hand. These Chile-Spiced Candied Peanuts have a salty-sweet crunch and a cayenne kick that's terrific with beer.
Spanish Recipes
Here are three great ideas with Spanish flair. Croquetas de Jamón - Ham Croquettes are small, lightly breaded and fried fritters of sorts. They are creamy, smooth and very tasty. The best part is you can make the dough ahead of time and freeze it. Then, take the croquetas out of the freezer and pop them into the frying pan.
 
Pinchos Morunos - Pork Kabobs are marinated a day ahead. This is a very popular "tapa," and easy to make and great for beginner Spanish cooks!
 
Tortilla Espanola - Spanish Omelet, also known as tortilla de patata, is the most commonly served dish in Spain. Cook it ahead. To serve, cut it into small squares and place atop small slices of baguette.
Beer Pairings
A party isn't the time to try a new, complex beer brewed by blind monks in a cave in France. Even the snobbiest of beer geeks likes a simple, good-quality brew. 
South American Food
Tequeños are a popular snack in places where the word fiesta means PAR-TAY! Tequeños are sticks of salty white cheese that have been wrapped in wontons and fried. Serve them with guacamole and enjoy!
Desserts and Baking
This recipe for Chocolate Nut Bars is the ideal party treat for everyone who enjoys that sweet-and-salty combination.
Low Fat Cooking
Mini Frittatas made in a mini muffin tin are cute and a perfect portion-controlled party food. Because they are low in calories and fat, you can eat more than one without feeling too guilty.
 
Spicy Shrimp Kebabs take just minutes to cook. The spiciness comes from a blend of soy sauce, garlic, fresh ginger and chopped jalapeno pepper.
Wine Suggestion
Sangrias are delicious, wine-based party drinks that enjoy a reputation for fruit and fun! They are easy to make, easy to drink and are a welcome addition to any party.
American Food
Busy Cooks
Guacamole is an easy and delicious appetizer you can make for a crowd. If you're feeding more than six people, double it! You can also use the guacamole recipe to make Mini Guacamole Cups for a fancier look.
 
This Spinach Pie Recipe (Spanakopita) is a Greek classic combining the tastes of spinach, herbs, and feta cheese. The recipe is quicker and easier than many other versions and produces a fabulous result. Serve at room temperature.
Kosher Food
Try this Deli Roll Recipe featuring deli meat or hot dogs rolled in puff pastry.
 
Spinach Tidbits are delicious dairy appetizers that can be prepared and frozen a week in advance to minimize pre-party preparations.
Candy
Chocolate Footballs will score big at a Super Bowl or World Cup party. These chocolate-peanut butter candies are fudgy, nutty, sweet, salty, and absolutely addicting.
Culinary Arts
Chinese Food
Dry Garlic Spareribs are boiled until tender, and then simmered in a flavorful sauce with soy sauce, brown sugar, and dry mustard. For extra spice, feel free to add hot red peppers or red pepper flakes to the sauce.
Kids Cooking
White Chicken Chili is one of those crowd-pleasing recipes that is just ideal for a potluck or informal party. Rotisserie chicken makes this chili a snap to prepare. Fresh tomatillos and cilantro give it authentic flavor. Serve with Sweet Cornbread.
Australian Food
This Portuguese chicken burger is a take on Australia's famous Bondi Chicken Burger. It consists of pan-fried chicken breasts topped with a chili sauce, romaine lettuce, several slices of provolone cheese and mayonnaise.
 
Or, if you feel like seafood, try this succulent Fish Burger Recipe.
Continued on the next page.
Italian Food
Arancini di Riso. Arancini di riso are balls of rice with a filling, rolled in breadcrumbs, and fried until golden. This is street food of the highest order, and as infinitely variable as the fillings that go into them.
 
For cheese lovers, there's Gorgonzola in Crema. Gorgonzola is a wonderful cheese and is also a fantastic base for a dip.
 
For something on the sweeter side there's Cenci, a quick-and tasty Carnival pastry also known as Frappe, or Chiacchere, and lots of other names.

Southern Food
Game Day Nachos are tasty ground beef and bean nachos arranged on a large ovenproof platter or shallow baking dish. Or, use several smaller baking dishes or ovenproof plates. This recipe should make enough for at least 6 to 8 hungry guests.

British Food

Local Foods