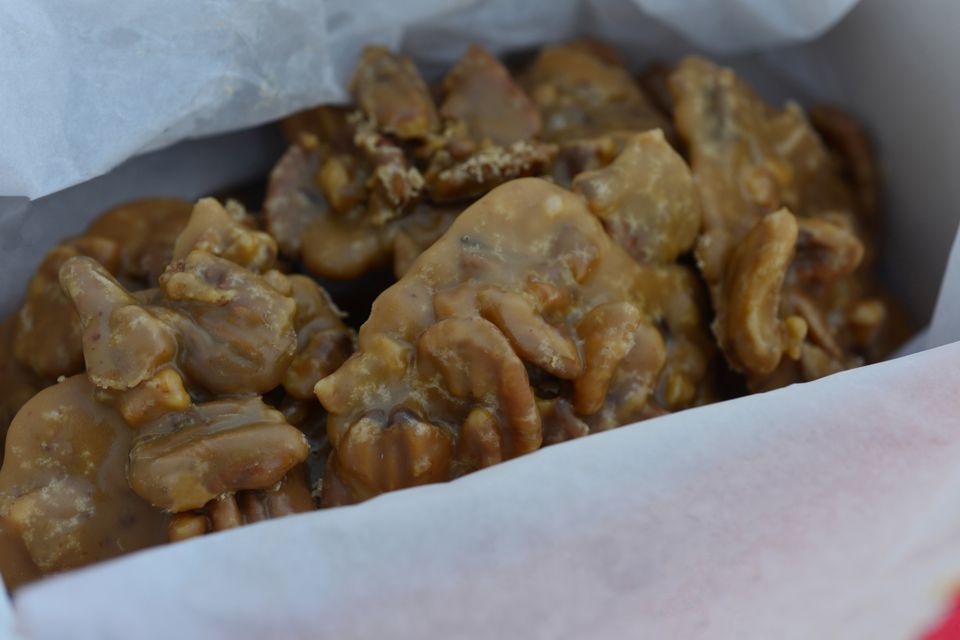 Pecans add a great flavor and crunch to any candy! This list of pecan candy recipes has something for everyone—from pralines to turtles, fudges to meringues, you'll find tons of candies featuring the great taste of pecans.
Pralines are a Southern classic and sure to satisfy anyone's sweet tooth. This recipe has just four ingredients—cream, brown sugar, vanilla, and pecans—and is pretty easy to make. A candy thermometer is very helpful when cooking the cream and sugar to the soft-ball stage.  

These sweet and spicy pecans have a crunchy mahogany coating of maple syrup, brown sugar, cinnamon, cayenne, and salt. They're a great all-purpose candied nut recipe to use in salads and side dishes, and also wonderful eaten plain by the handful.

What is better than a classic praline? One that has chocolate both in the praline mixture as well as drizzled on top! Take the traditional pecan treat to the next level with this chocolate version. Make sure to have a candy thermometer on hand when cooking the cream, butter, and sugars together.​

Turtle candies get their name from their whimsical turtle shape. The combination of toasted pecans, soft caramel, and smooth chocolate is impossible to resist. You can make these candies using store-bought caramels, but if you happen to have homemade (or are so inclined to make) the taste will be even better.

Continue to 5 of 10 below.

Pretzel turtles are a fun twist on the traditional turtle candy recipe. Gooey caramel, melted chocolate, and crushed pecans are all layered on top of pretzel crisps for a sweet and salty, crunchy and chewy treat. 

If you love the taste of pecan pie, you will love this fudge! The base is a brown sugar fudge with a hint of maple, and the toasted pecans add a deep, nutty taste. Make sure to toast the nuts well so that they bring their optimal flavor.

Dress up your turtle candies by putting them in pretty little cups! They may not have the typical turtle shape, but they still have the classic turtle flavors of caramel, chocolate, and pecan. These elegant packages are also easy to serve and eat and make great gifts.

There is not much information on where the name came from (perhaps they were the First Lady's own creation!) but these traditional chocolate-dipped coconut candies are something special. Shredded coconut and crunchy toasted pecans are a delicious combination along with the creamy filling.

Continue to 9 of 10 below.

These nutty logs are sliced and then placed into little candy cups for a pretty presentation. Creamy caramel and crunchy toasted pecans coat miniature nougat logs that are bursting with pecan flavor. Traditionally, the nougat is homemade but this recipe takes a shortcut with marshmallow cream. 

Crunchy pecans stud this buttery fudge creating a melt-in-your-mouth treat with a bit of texture. The recipe calls for butternut flavoring, which can be found in the baking aisle of the grocery store. You can leave it out for a more mild taste.