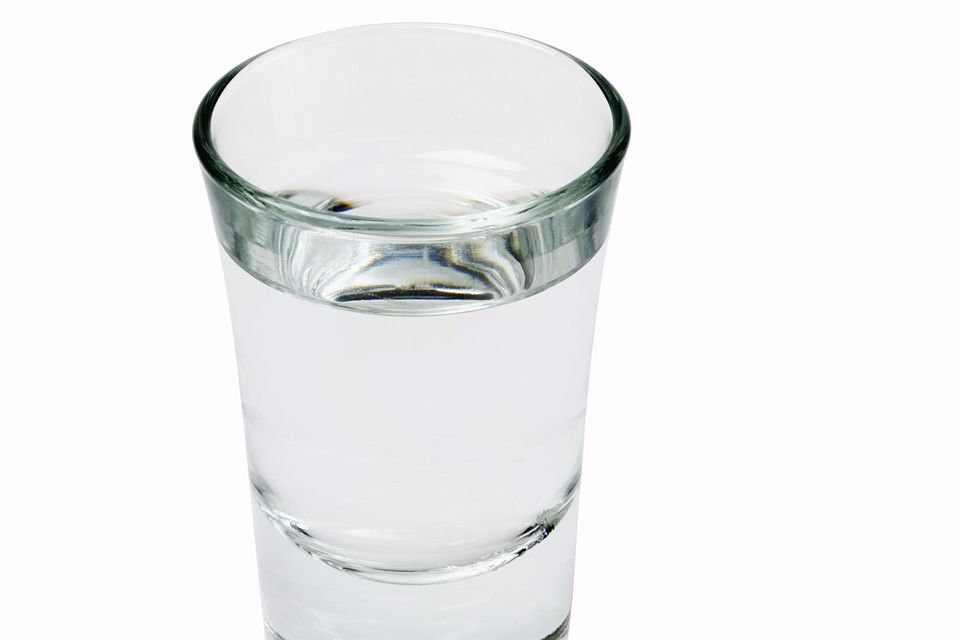 The Polar Bear is a great tasting party shooter that is hard to resist. It is a simple mix of peppermint and chocolate, similar to the Peppermint Patty and the Snowball.
As shots go, this is one of the better ones and it is a great choice for winter party fun.
You will need just two ingredients to create a Polar Bear shot: a chocolate liqueur and a mint liqueur. Those are both broad categories and there are many options within each flavor. Most often, the Polar Bear is made with white creme de cacao and peppermint schnapps, but if you have a favorite in either liqueur, use it.
Depending on the schnapps you choose, this can be a pretty light shot. If you want to add a kick to it, there is a variation below that adds vodka.
Pour the liqueurs into a cocktail shaker filled with ice.
Strain into a shot glass.
Just Add Vodka to Your Polar Bear Shot
Adding a clear vodka to the Polar Bear does nothing to change the flavor. It is that same mint-chocolate taste, just slightly more potent.
Whether you use two or three ingredients, just keep the pour equal and your Polar Bear will taste great.
To make this drink, shake 1/3 ounce each vodka, creme de cacao, and creme de menthe with ice.
Strain into a chilled shot glass.
Tips for Making a Great Polar Bear Shot
Chill the Glass! To keep with the arctic theme of this drink, it is only right that your shot glasses be ice-cold.
Before mixing up a round of shots, rinse the glasses with cold water and place them in the coldest part of the freezer.
They will be frosty in less than 10 minutes.
When you're done with that round, rinse the glasses and put them back in the freezer so they're ready for the next round.
The Minty Liqueur. Whether you choose to use peppermint schnapps or creme de menthe in a Polar Bear is a matter of choice. Both liqueurs will add the same flavor to the shot.
White creme de menthe will create a clear shot. If you want a green drink, choose green creme de menthe.
Peppermint schnapps can be much stronger than creme de menthe. Brands like Rumple Minze top off at a whopping 100 proof while others are a gentle 30 proof.
The Chocolate Liqueur. White creme de cacao is typically used in the Polar Bear, but there are many other chocolate liqueurs available. Unlike the mint, your choice will determine much more than the shot's color and strength.
White creme de cacao is clear, not 'creamy' and has a nice balance of cocoa flavor.
Dark creme de cacao is similar in color to a dark rum and tastes more like dark chocolate.
Chocolate liqueurs like Godiva are creamy brown and tend to have more of a milk chocolate taste.
How Strong is the Polar Bear?
Let's compare the strength of the various Polar Bear shots poured into a 2-ounce shot glass...
Polar Bear with both liqueurs at 30 proof: 11% ABV (22 proof)
Polar Bear with 100 proof Rumple Minze: 18% ABV (36 proof)
Polar Bear with 30 proof liqueurs and vodka: 17% ABV (34 proof)
Polar Bear with Rumple Minze and vodka: 26% ABV (52 proof)
The same drink made with a high-proof alcohol is significantly stronger. To put that into perspective, none of these drinks is as strong as a straight shot of 80 proof tequila.
Nutritional Guidelines (per serving)
Calories
94
Total Fat
1 g
Saturated Fat
0 g
Unsaturated Fat
1 g
Cholesterol
0 mg
Sodium
8 mg
Carbohydrates
12 g
Dietary Fiber
4 g
Protein
6 g
(The nutrition information on our recipes is calculated using an ingredient database and should be considered an estimate. Individual results may vary.)