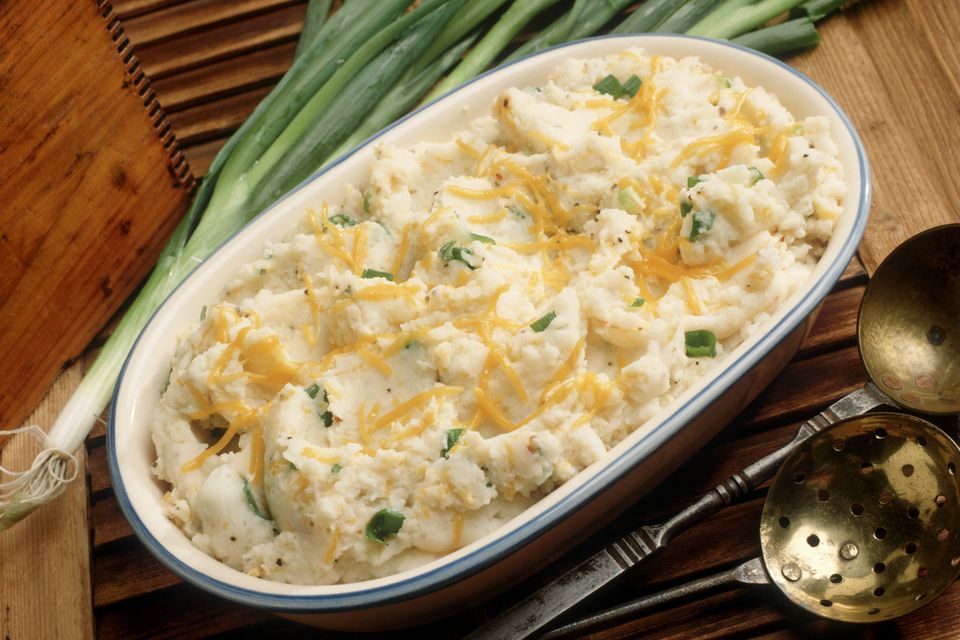 This great tasting potato casserole is made with sour cream, Cheddar cheese, and green onions.The mashed potato casserole is baked to perfection.
This is an excellent choice for a holiday dinner or any special family meal. If you like a crisp topping, sprinkle about 1/2 to 3/4 cup of buttered bread crumbs over the potato casserole just before you put it in the oven. French fried onions would make a tasty topping as well.
2 1/2 to 3 pounds potatoes (Yukon gold)
8 tablespoons butter (melted, divided)
3/4 cup sour cream
1 bunch green onions (6 to 8, chopped)
1 cup Cheddar cheese (shredded, divided)
1/4 teaspoon black pepper (freshly ground)
Optional: milk (or cream, to thin)
Lightly butter a 2-quart baking dish. 
Heat the oven to 400 F.
In a large saucepan or stockpot, combine the potatoes with water, to cover, and 1 tablespoon of kosher salt. Bring the potatoes to a boil over high heat. Cover the pan, reduce the heat to medium-low, and boil for about 20 minutes, or until very tender. Drain.
Mash the potatoes with 6 tablespoons of the butter, sour cream, green onions, about 3/4 cup of cheddar cheese, 1/2 teaspoon of salt, and the freshly ground black pepper. Thin with some milk or cream, as needed.
Spoon the potatoes into the prepared baking dish.
Drizzle the remaining melted butter over the potatoes.
Bake in the preheated oven for 25 minutes, or until potato casserole is lightly browned. Scatter the remaining shredded cheddar cheese over the casserole and return it to the oven for a few more minutes.
Tips and Variations
Spoon the potatoes into the baking dish and toss the butter with about 1/2 to 3/4 cup of bread crumbs. Sprinkle over the casserole and bake as directed.
You Might Also Like
Nutritional Guidelines (per serving)
Calories
388
Total Fat
26 g
Saturated Fat
15 g
Unsaturated Fat
7 g
Cholesterol
73 mg
Sodium
223 mg
Carbohydrates
29 g
Dietary Fiber
3 g
Protein
11 g
(The nutrition information on our recipes is calculated using an ingredient database and should be considered an estimate. Individual results may vary.)