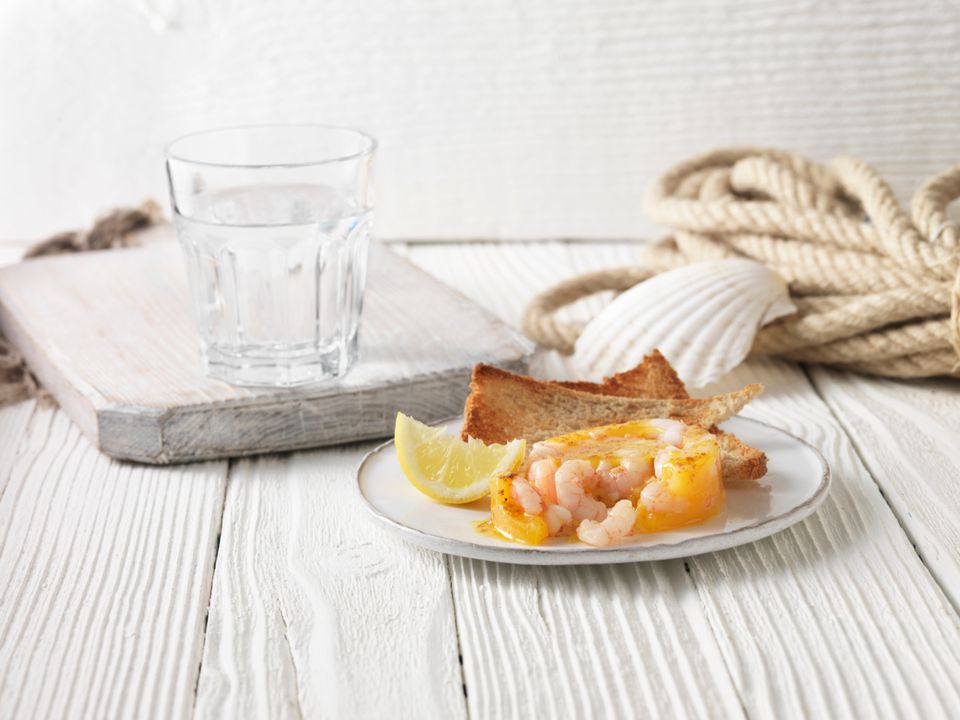 A once-common feature at English Teas was a ramekin of seasoned shrimp or mushrooms - referred to as either potted shrimp or mushrooms. The main ingredient is cooked in butter, seasoned and then packed in butter (this is similar to the French confit). In addition to the rich flavor the butter brings, it also acts as a preservative so that potted shrimp can last as long as 4 weeks in the refrigerator. Potted shrimp makes a great canapé for a party, but also a great snack just waiting in the fridge. 
4 tablespoons butter (unsalted; separated; you may need a bit more)
1/2 lb. shrimp (peeled and cut into thirds)
1/4 cup shallot (sliced)
1/2 teaspoon mace (ground)
1/2

teaspoon

 ginger (powdered)
1 dash nutmeg (freshly grated)
1 pinch salt (coarse, to taste)
3

 tablespoons

 sherry (dry)
4 dashes hot sauce (Tabasco)
1 teaspoon lemon juice (to taste)
In a heavy skillet melt 1 tablespoon of butter over medium heat. Add shrimp, shallots, and sprinkle with spices. Stir to coat shrimp with butter and spices.
Cook 1 minute then add sherry and cook until shrimp is just done and most of the sherry has evaporated - about another 2 1/2 - 3 minutes.
Remove from heat and add Tabasco and lemon juice. Process mixture in a food processor until it is finely chopped but not a paste - the texture of coarse sea salt. Taste and adjust seasonings.
Melt remaining butter in the skillet over medium-low heat. When foaming subsides, remove skillet from heat and stir in shrimp mixture.
Pack into a ramekin and if the liquid doesn't come to the top of the shrimp, add a bit more melted butter. Refrigerate at least 4 hours to let flavors meld.
Allow to warm in an oven heated at 250dg Fahrenheit for an hour before serving on crackers or slices of thin toast.
This will keep three to four weeks refrigerated and can also be frozen. Eat with thin slices of toast or crackers. (I usually use Pepperidge Farm Very Thin White Bread, cut off the crusts, cut it into four pieces, and toast it.)
This Recipe's Aphrodisiac Qualities
Shrimp are a significant source of iodine—needed by the thyroid gland—the body's thermostat to regulate our internal temperature. The thyroid controls the amount of "fuel" burned by the body for energy. For a date night to end in passion, it's necessary to keep our energy levels elevated. Iodine is also needed for normal functioning of the nervous system, the health of the connective tissue and the production of estrogen that aids in women's sexual development. Estrogen influences women's health by influencing their mood, cholesterol levels and how their bones grow. Obviously, it's a key player in a woman's internal sexual and reproductive chemistry.
Edited by Joy Nordenstrom
Nutritional Guidelines (per serving)
Calories
172
Total Fat
12 g
Saturated Fat
7 g
Unsaturated Fat
3 g
Cholesterol
144 mg
Sodium
401 mg
Carbohydrates
2 g
Dietary Fiber
0 g
Protein
14 g
(The nutrition information on our recipes is calculated using an ingredient database and should be considered an estimate. Individual results may vary.)