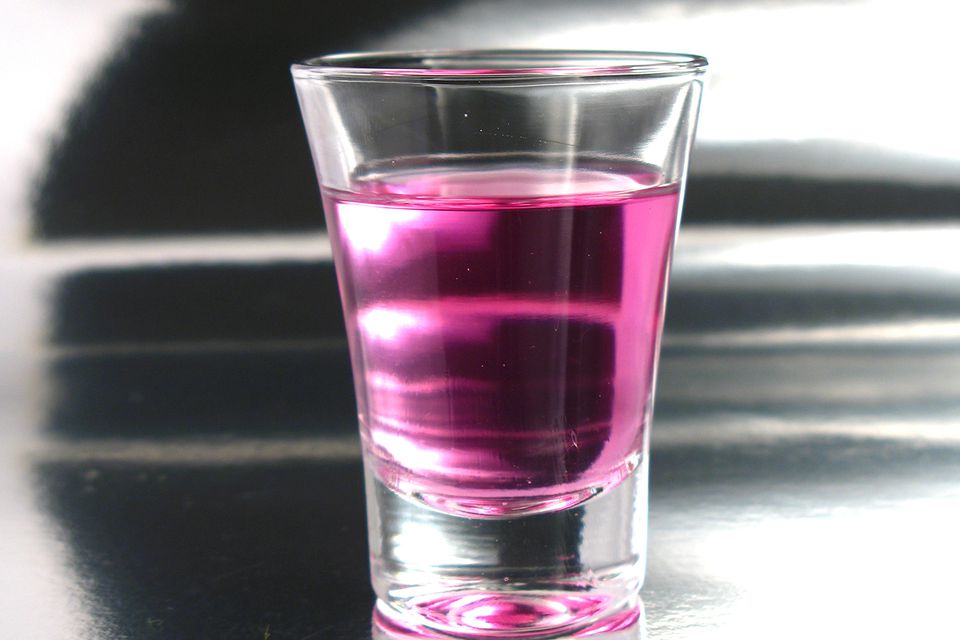 Fun, fruity, and purple! That is the popular shot called the Purple Hooter and it is a drink that you will want to invite to your next party.
The Purple Hooter goes by a few different names and there are a few ways to make it. Whether you call it a Raspberry Gimlet or a Purple Kamikaze, it is just that... a raspberry-flavored (and purple-colored) variation on the popular Kamikaze shot.
The two shooters have vodka and lime juice in common. Where the Kamikaze typically uses an orange liqueur like triple sec, the Purple Hooter uses a black raspberry liqueur like Chambord. If you know how to make one shot, then you know how to make the other.
There is no doubt that the Purple Hooter is a great tasting drink. Its fruity mix is difficult to resist and everyone at your party will love it when you pour a round of these purple shots.
Pour the ingredients into a mixing glass with ice.
Strain into a shot glass.
Another Purple Hooter Recipe
If you do not have lime juice in your bar, don't worry, you can still make a Purple Hooter shot. With this recipe, you will get the same great flavor as the original, just in a slightly different form.
It is essentially the same drink, just a little heavier on the liqueur (which is not a bad idea in the first recipe, either).
This version also opts for a splash of citrus soda rather than lime juice.
To make this drink, combine 1 ounce vodka with 1/2 ounce Chambord and a splash of lemon-lime soda in a cocktail shaker with ice and shake well. Strain into a shot glass.
Transform It into a Fancy Raspberry Gimlet Cocktail
The Purple Hooter is a fun shot drink, but it is also the perfect candidate for a transformation into a fancy cocktail. Just as there is an 'up' version of the Kamikaze that is a delightful and popular martini-esque drink, the raspberry version can get the same treatment.
In this case, I like to use a more sophisticated name for the drink. 'Purple Hooter' may be okay in a shot glass, but when we turn to a cocktail glass, I think we can class it up a bit and call it a Raspberry Gimlet. It is very similar to the popular Gimlet cocktail and, likewise, can be made with either vodka or gin.
To make this drink, shake 1 1/2 ounces vodka or gin with 1 ounce black raspberry liqueur and 1/2 ounce fresh lime juice with ice. Strain into a chilled cocktail glass and garnish with seasonal berries.
How Strong Is the Purple Hooter Shot?
Is the Purple Hooter a strong shot? Let's find out by running the numbers.
If we use an 80-proof vodka and Chambord, the first Purple Hooter recipe would be 24% ABV (48 proof) and the second shot recipe is just slightly stronger at 25% ABV. In comparison, the Raspberry Gimlet recipe given weighs in at around 30% ABV (60 proof).
Does it surprise you that a 'martini' is stronger than a shot?
It happens more than you think. The difference in your intoxication may just be how many of those shots you're drinking in a row!
Nutritional Guidelines (per serving)
Calories
122
Total Fat
0 g
Saturated Fat
0 g
Unsaturated Fat
0 g
Cholesterol
0 mg
Sodium
2 mg
Carbohydrates
8 g
Dietary Fiber
2 g
Protein
0 g
(The nutrition information on our recipes is calculated using an ingredient database and should be considered an estimate. Individual results may vary.)