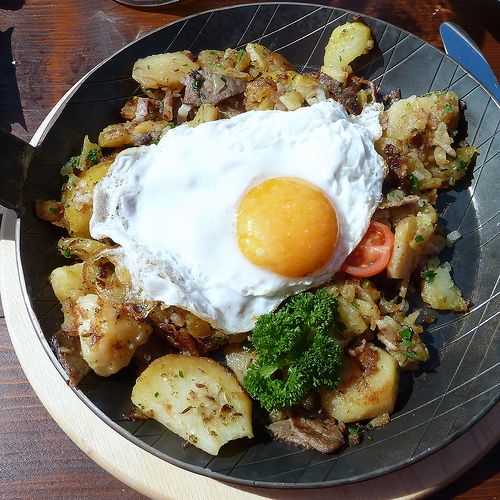 Most hash is made from cured meats, such as corned beef hash or ham hash, but this one is just put together with uncured, boiled or braised beef. Tiroler Gröstel (or Gröstl) is a considered a "Restessen," or a way to use up leftovers. Use the extras from Sunday's roast or "Suppenfleisch" (soup meat) which has been cooked until tender. You may also try cooking your beef in a pressure cooker to reduce the time it takes to prepare.
1 1/2 pounds potatoes
1 large onion
1/2 to 3/4 pounds cooked beef
2 tablespoons oil
2 tablespoons butter (or as needed)
Salt to taste
Black pepper to taste
1 tablespoon chopped parsley
Pinch dried marjoram
1​ to 2 pinches caraway seeds
4 eggs
Cook, peel and cool or refrigerate the potatoes. These can be leftovers or be cooked on purpose, earlier in the day or the day before using. Cut the potato into 1/4 inch-thick slices.
Slice the cooked beef, then cut into 1/2 inch squares (or so).
Chop onion finely.
Heat 1 tablespoon oil in a large pan and brown the onion. Remove from pan.
Heat 1 tablespoon oil and 1 tablespoon butter in the pan and add the potatoes. Brown one side without stirring, then flip, add the beef and onions to the pan and season with salt, ground black pepper, a pinch of dried marjoram and a pinch or two of caraway seeds.
Continue browning until heated through and crispy (cook's choice of when they are done), stirring or flipping as needed. Add oil or butter as necessary.
In another pan fry 4 eggs in butter.
Serve hash with fried egg on top, sprinkled with parsley. Good side choices are cooked cabbage ("Warmer Krautsalat") or a green salad.
Note: You may also add chopped bacon to the onions while they are frying for a bolder taste.
See also "Bratkartoffeln."
Nutritional Guidelines (per serving)
Calories
435
Total Fat
19 g
Saturated Fat
8 g
Unsaturated Fat
7 g
Cholesterol
287 mg
Sodium
218 mg
Carbohydrates
34 g
Dietary Fiber
5 g
Protein
32 g
(The nutrition information on our recipes is calculated using an ingredient database and should be considered an estimate. Individual results may vary.)