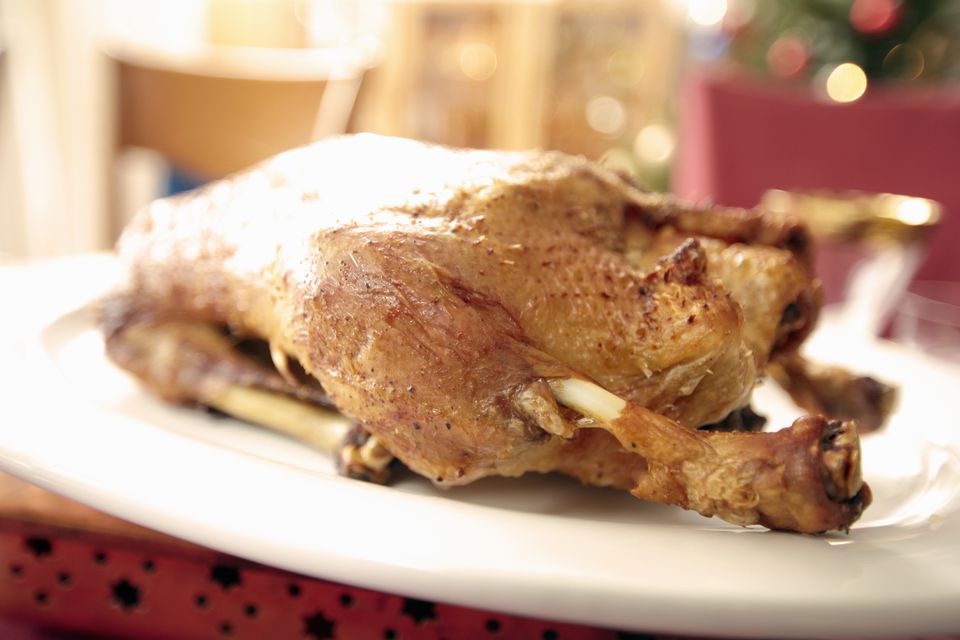 Roast duck is one of my most favorite main courses for Thanksgiving and Christmas feasts. It's perfect for two because the leftovers can be used in a variety of other recipes. A single duck can feed up to four, that is if you're willing to share. Ideally, start a day ahead (order a pizza for supper that Wednesday night while the duck is pre-cooking) but on Thanksgiving it will only take an additional 30 minutes to cook. Duck is far superior to turkey and in my opinion only rivaled by...MORE goose in flavor. Simply marvelous! The sides on this menu are semi-traditional, with a little twist to make it an intriguing feast.
This menu is based on a traditional Thanksgiving turkey meal but adapted not just for the duck, but to offer a new spin on the holiday classics. I realize that for many it's the classics, adhered to with tenacity, that define Thanksgiving. If that's the case with you here's a turkey dinner for two with stuffing and gravy. And if you are a traditionalist and roasting a duck is intimidating this Thanksgiving menu is more simple.
Because duck is so fatty, you need to make a special effort to eliminate some of the fat. This is easy enough if you're pan-roasting breasts or cooking just the legs. It is far more tricky, though, when roasting a whole duck. The best way I know to do it is to simmer the whole duck after poking holes in the skin to allow the fat to escape as it melts. You'll need a large stockpot, and it's a two-part process, but the two parts result in that most luscious of lipids (duck fat) and a...MORE wonderful broth you can use for cooking beans or making soup. Serve the breasts for the special meal, add the potato recipe below, and for leftovers check out the other ways to use the legs creatively.

A coulis is a sauce made from fruit that is cooked down into a thick syrup and then strained. I came up with this recipe one Christmas when I wanted cranberries in the meal, but didn't want to do any of the ordinary things like cranberry relish or what's typically called cranberry sauce. This is sweet and tart and is marvelous on roasted poultry (duck, chicken, turkey, goose) as well as pork.

Sauteed Italian Green Beans, a.k.a. Italian Broad Beans, supply a unusual twist to traditional green beans. Credit: Paul Viant

One of the vendors at my farmers' market decided to grow some Italian broad beans this year and when I spotted them I stufffed a bag full. Boy were they good, so the following week I bought some more. The first batch I simply boiled with some country ham, but I took an Italian approach with the second batch and after par-boiling them I sautéed them with garlic, pancetta and anchovies. Don't let the anchovies scare you, they melt in the skillet and you only get a hint of fishiness - but a

...

much richer flavor because they're there.

Sweet Potato Pie is an old Southern favorite. It looks like and is usually flavored like pumpkin pie and I've had it many times in my life - well, several times anyway. But I'd never made it until I was sent a copy of the Lee Bros.' Southern Cookbook to review. Their recipe intrigued me because it included buttermilk, so I made it. It's seriously good. The recipe below is adapted from their version.