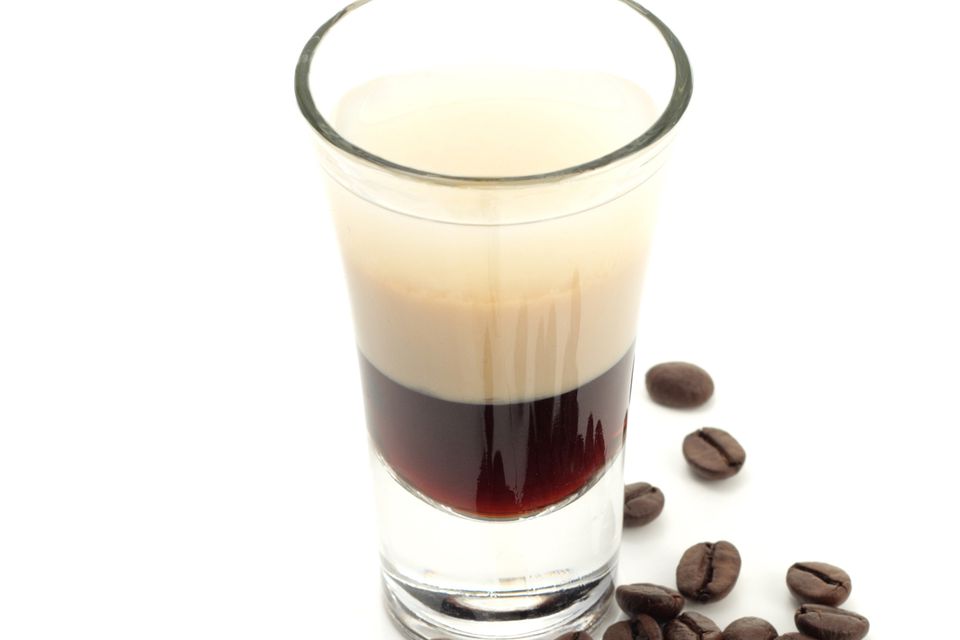 The Russian Qualude is a popular drink that can be made as a layered shot or a tasty highball. There are a few recipes for making it, with vodka as the common ingredient. However you take your Russian Quaalude, it's a pretty good drink.
Fun Fact: For some reason, when the word quaalude made it into the bar via the Russian Quaalude, the second a was dropped. This drink is often spelled qualude.  (one  for a often abused prescription drug.
A Frangelico Russian Qualude Shot Recipe
This first recipe creates a layered shooter and is a pretty good tasting mix of hazelnut, cream and vodka.
Frangelico is the most popular hazelnut liqueur and Baileys may be your top pick for Irish cream. There are other options for both liqueurs, so feel free to explore the liquor store shelves.
When it comes to the vodka, the choice is yours. However, there really is no need to spend a lot of money on it because this is, after all, a shot and it will go down quickly. Look for some of the bargain vodkas, there are some great ones out there that may surprise you.
Pour the hazelnut liqueur into a shot glass.
Float the Irish cream on top of the first layer.
Float the vodka on top of the second layer.
Tip: Chill all of your liquors prior to pouring these shots so the layers are well-defined.
A Galliano and Chartreuse Russian Qualude Shot Recipe
As you can see, this Russian Qualude recipe has a completely different flavor than the other two drinks. I'm not sure why this is or why this shot took such a dramatic turn.
The good news is that it tastes just as good, it's just different.
In this recipe, two herbal liqueurs are included in the layers. Galliano has the flavor of vanilla and anise and Chartreuse is much more complex because it is made from 130 herbs. The two are surprisingly good complements, which will help you get this shooter down with ease.
To make this shot, fill a shot glass a third of the way with Galliano L'Autentico. Float an equal amount of Green Chartreuse on top, then a third layer of vodka on top of that.
A Russian Qualude On the Rocks Recipe
Last up is the Russian Qualude that is not meant to be a shot, but a slow sipping drink you can enjoy anytime. It is creamier than the rest and builds on that hazelnut-vodka base.
Besides the way this cocktail is served, the other difference is that coffee liqueur and milk are added to the mix. Kahlua may be your liqueur of choice here, but I encourage you to look into some of the other coffee options available.
To make this drink, ounce each of vodka, coffee liqueur, Irish cream, and Frangelico over ice in a chilled highball glass. Top with milk or cream and stir well.
How Strong are These Russian Qualude Drinks?
You have to remember that layered shots are often very strong because we don't dilute them with water while shaking. This makes the two Russian Qualude shot recipes close to the combined bottling strength of the liqueurs used. However, notice that adding Kahlua to the highball mix makes that a pretty strong drink as well.
Russian Qualude Shot with Frangelico: 23% ABV (46 proof)
Russian Qualude Shot with Galliano: 38% ABV (76 proof)
Russian Qualude on the Rocks: 23% ABV (46 proof)
Nutritional Guidelines (per serving)
Calories
423
Total Fat
18 g
Saturated Fat
1 g
Unsaturated Fat
13 g
Cholesterol
0 mg
Sodium
4 mg
Carbohydrates
29 g
Dietary Fiber
3 g
Protein
4 g
(The nutrition information on our recipes is calculated using an ingredient database and should be considered an estimate. Individual results may vary.)