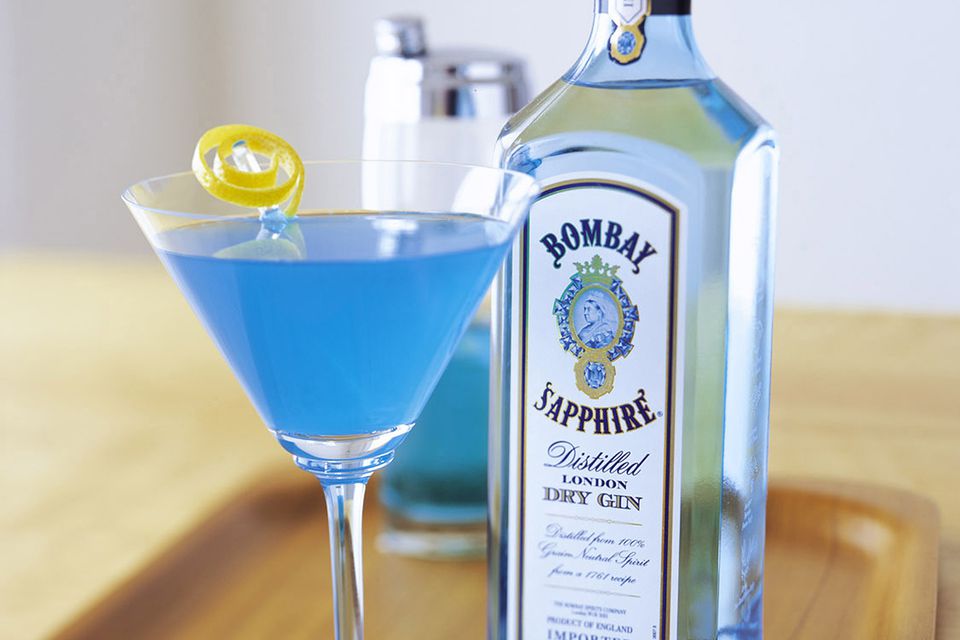 You will find that the Sapphire Alpine is a very flavorful blue 'martini' (depending on your definition of a martini, of course). It is a delightful cocktail filled with fruit flavors, unbelievably easy to make, and is wonderful for any occasion or season.
The Sapphire Alpine is certainly not as dry as most gin cocktails, instead, this recipe takes the sweeter side of the spirit. It works out quite well because the dry botanicals of Bombay Sapphire Gin are a pleasant contrast to the sweet orange and peach of the liqueurs.
Despite the bottle, Bombay itself is not blue. The color of this drink comes from the blue curacao.
1 ounce
1 ounce 
1 ounce 
Orange slice for garnish
(Recipe from Bombay Sapphire Gin)
Transform the Sapphire Alpine into a Party Punch
The flavor of this beautiful blue martini is the perfect base for an impressive gin punch. It can easily be made to serve any sized party, from an intimate brunch to a big wedding bash.
The base for the punch is here and because the three ingredients are poured equally, there is very little math involved.
Add Sparkle to the Mix. In order to take this drink from martini to punch, it's best to add a little carbonation from a soda like ginger ale or club soda. This will bring down the drink's strength and make the boozy mix better for serving a crowd.
Begin by adding twice as much soda as the total liquor volume and adjust from there. The ratio would look something like this:
1/3 part gin
1/3 part blue curacao
1/3 part peach schnapps
2 parts ginger ale
You can also use a non-alcoholic blue curacao to make it even lighter. Just look in the mixer section of the liquor store, there is usually an option there.
Finishing Punch Touches. For a spring or summer party, you can easily dress up the Sapphire Alpine punch bowl.
How Strong is the Sapphire Alpine?
Remember that every 'martini' made of liquor alone is going to be a potent little drink. The Sapphire Alpine is no exception.
Bombay Sapphire is a 94-proof gin and the average peach schnapps weighs in at 46 proof while curacao is about 60 proof. With these numbers, we can estimate that a 1-ounce pour of each for a single cocktail would bring the drink to around 29% ABV (58 proof).
She is a pretty cocktail, but looks can be deceiving. That is why I suggest cutting it down when making a punch.
At the proportions I gave above, the punch would be a nice and mild 15% ABV (30 proof). This is slightly stronger than a glass of wine and should prevent too many 'bad drunk' incidents at the party.
More Bombay Sapphire Cocktails
Bombay Sapphire is a fantastic gin for a variety of cocktails and it's affordably priced so you can keep it in the bar for regular use. Here are a few more cocktails that are perfect for one of our favorite gins.
Sapphire Martini - Quite similar to the recipe above, this one skips the peach and opts for dry vermouth instead. 
Candy Corn - A very fun Halloween martini recipe that infused kettle corn into the gin.
Early Autumn - This time we infuse Bombay with pears and apple for an autumn cocktail.
Massey Cocktail - The gin plays into a very complex modern cocktail with Irish whiskey, Campari, and more.
Pineapple and Sage Gimlet - A fantastic pitcher drink for summer parties, your guests will love this one.
Nutritional Guidelines (per serving)
Calories
267
Total Fat
0 g
Saturated Fat
0 g
Unsaturated Fat
0 g
Cholesterol
0 mg
Sodium
3 mg
Carbohydrates
38 g
Dietary Fiber
5 g
Protein
2 g
(The nutrition information on our recipes is calculated using an ingredient database and should be considered an estimate. Individual results may vary.)