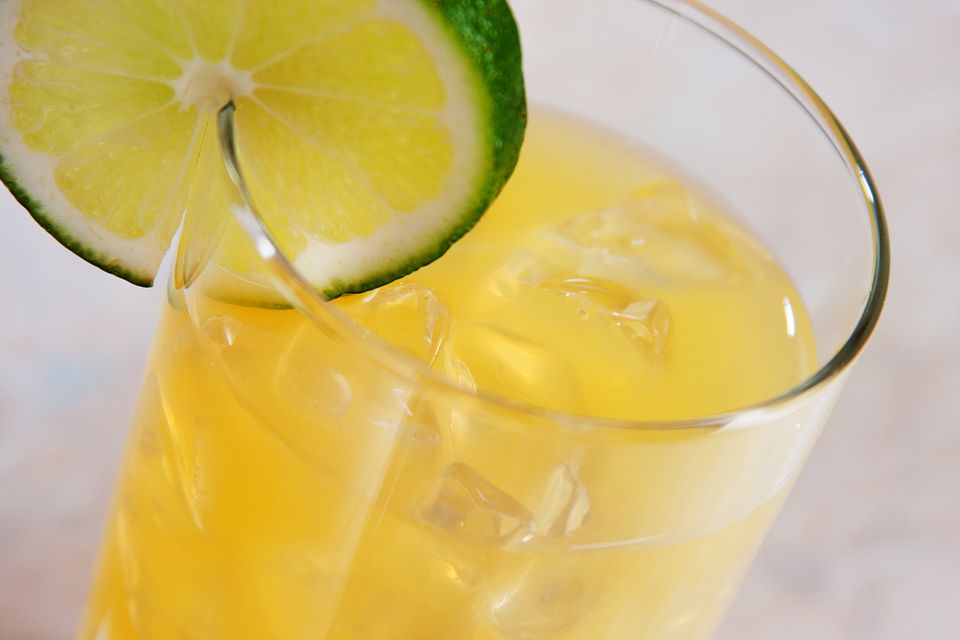 The Scorpion is a very popular tiki cocktail and, like most tiki drinks, there are many ways to make it.  At the heart of almost every Scorpion recipe is a lot of rum, a little brandy, some orange juice and often a bit of pineapple.
The Evolution of the Scorpion
The story of the Scorpion is that it was a Hawaiian cocktail served with okolehao, a sort of local moonshine. Victor Bergeron, of Trader Vic's fame, enjoyed it on one of his trips to the islands and brought it back to the mainland. In true tiki fashion, rum became the spirit of choice.
In the tiki bars of the world, you can get a few different kinds of Scorpion drinks. There are the individual cocktails and the party punches, then there is the Scorpion Bowl.
Over the years, ingredients were added, subtracted, and multiplied so it is very rare to find two Scorpion recipes that are alike. Here, we will look at three recipes: Trader Vic's Scorpion punch from 1946, Dale DeGroff's single Scorpion cocktail, and a sweetened version of the Scorpion Bowl.
Any of the recipes can be adapted to serve any size of a party, you just have to do some simple math.
Trader Vic's Scorpion Recipe
The first recipe comes from "Trader Vic's Book of Food and Drink" (1946) and unlike some newer Scorpion recipes, just one rum is required. It is a very interesting drink with a lot of flavors and everything in it makes it an iconic tiki cocktail.
You will notice that gin is used, which is often either skipped or replaced with vodka in modern renditions. Some recipes also call for the ingredients to be blended with two cups of ice then served over ice, but that seems like overkill and unnecessary work.
This recipe should serve about 12 people and it is a great party punch. Bergeron suggested garnishing it with a gardenia. However, as Dale DeGroff suggests in "The Essential Cocktail," an edible flower, or "humble slices of orange and lemon and a mint sprig" will do just fine.
It should be noted that by 'bottle' we are talking about the standard 750ml bottle of liquor (aka 'a fifth').
Bergeron's method for making his Scorpion is delightfully simple. Notice how he suggests letting it set for two hours. This allows for proper dilution and brings the punch's strength down while taming the flavors so it's perfectly enjoyable. Many punch recipes would do well with the same treatment.
Combine all of the ingredients and pour the punch over cracked ice.
Allow it to stand for two hours.
Add more ice and garnish with gardenias.
Dale DeGroff's Scorpion Cocktail
This is a popular recipe for a single Scorpion cocktail and it's just as delightful as Trader Vic's punch. All of the elements remain, they're simply combined in different proportions and fresh pineapple and cherry are brought into the mix.
The recipe can be found in Dale DeGroff's "The Craft of the Cocktail" and this is an essential book that every bartender of any level should have in their library.
Buy "Craft of the Cocktail" on Amazon
To make this drink, muddle one chunk of pineapple and one cherry in a cocktail shaker. Add 1 ounce each rum, brandy, and orange juice, 3/4 ounce lemon juice, 1/2 ounce each simple syrup and orgeat and shake well with ice. Strain into a double old-fashioned glass filled with fresh ice. Garnish with a piece of pineapple and a cherry.
Scorpion Bowl Recipe
Here is where we get a little murky on the details. The Scorpion Bowl is both a drink and a vessel for serving punch to a small party of four or five people.
You may have seen the scorpion bowl if you've been to a tiki bar (it's also popular at Chinese restaurants). It is a small punch bowl  (about 32 ounces) on a pedestal, often made of ceramic and decorated in lavish tiki style. In the middle, is a small 'volcano' bowl that many people choose to fill with overproof rum and light on fire.
The scorpion bowl is designed to set on a table and each of the drinkers has their own straw. You drink together, laugh and have a ton of fun. It really is fabulous and you don't need a local tiki bar to enjoy it.
Buy a Volcano Scorpion Bowl at Amazon
The actual drink that goes into the scorpion bowl can be anything you like. Many people choose to mix up a variation of the original Scorpion above and you can certainly use that particular recipe. You will need to cut it down to fit in the bowl because the rum alone will nearly fill the average scorpion bowl.
If you're looking for a Scorpion for your bowl that's a little different, here's a good recipe to try. The big difference here is the use of grenadine and the addition of vodka as well as more than one type of rum.
This will fill a 32-ounce scorpion bowl with ice (the drink itself is 24 ounces) and can be adapted to fit other bowls.
To make this drink, combine the following ingredients:
6 ounces each orange juice and pineapple juice
6 ounces pineapple juice
Pour this mix into a scorpion bowl filled with ice. Pour the 151-proof rum into the scorpion bowl's volcano and light it on fire. Give each drinker their own straw and enjoy.
Tip: Please be careful when drinking and playing with fire. Definitely, do not let anyone reach or lean over the flaming volcano (hair and clothing goes up fast, trust us).
How Strong Are These Scorpions?
Scorpions of all varieties are not known to be weak drinks and often people go overboard on the liquor, pouring far too much. However, if you make these Scorpion drinks according to the recipe you will not only find that they're not as potent as you think, they actually taste better.
To run the numbers and estimate the alcohol content of these three recipes, let's assume that our spirits are all 80-proof and the wine in 10% ABV.
Trader Vic's Scorpion Punch (with the long ice melt): 19% ABV (38 proof)
Dale DeGroff's Scorpion Cocktail: 15% ABV (30 proof)
Scorpion Bowl (not including the burning rum): 12% ABV (24 proof)
Nutritional Guidelines (per serving)
Calories
65
Total Fat
0 g
Saturated Fat
0 g
Unsaturated Fat
0 g
Cholesterol
0 mg
Sodium
3 mg
Carbohydrates
7 g
Dietary Fiber
1 g
Protein
1 g
(The nutrition information on our recipes is calculated using an ingredient database and should be considered an estimate. Individual results may vary.)