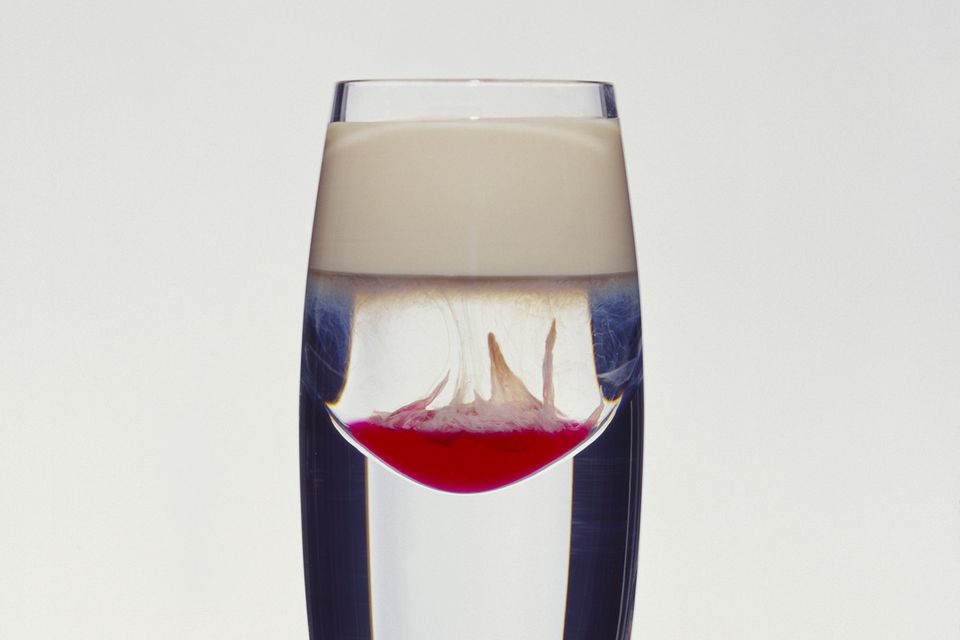 A Slippery Nipple is a fun and popular shooter that pairs sambuca and Irish cream liqueurs. It is a layered shot and the two liqueurs are not supposed to mix. Don't worry, it's easy and there are a few Slippery Nipple recipes to choose from, including those that use Kahlua and butterscotch schnapps.
The Slippery Nipple Shot
Sambuca is an anise-flavored liqueur (similar in taste to black licorice) and it is a bit of an acquired taste which can catch you off guard in a shooter like this. The Irish cream does a fair job of taming that taste down and the drink is actually quite good.
You may also see a Slippery Nipple that replaces the sambuca with equal parts of anisette and peppermint schnapps. That is truly one of a unique flavor combination, but you might be one of those people who really digs it.
1/2 ounce
1/2 ounce
1 drop grenadine
Pour the sambuca into a shot glass.
Slowly pour the Irish cream over the back of a bar spoon so it floats on top.
Add a drop of grenadine in the middle of the cream to create the 'nipple.' Some bartenders will add a cherry instead, but you get the picture.
A Slippery Nipple No. 3
Here is another version of the Slippery Nipple. This recipe adds butterscotch schnapps (like Buttershots), skips the sambuca, and for Kahlua instead.
It's extremely delicious and this version will appeal to a greater variety of drinkers.
This is another layered shot and if you like it, you may want to check out the Buttery Nipple as well.
To make this drink, simply layer 1/3 ounce each of Kahlua coffee liqueur, butterscotch schnapps, and Irish cream in a shot glass in the order given. 
Dirty Nipple Shot
The Dirty Nipple falls between the two Slippery Nipple recipes and it borrows a little from each of the other drinks. The sambuca is back and the Kahlua remains. Again, add the grenadine to any of these shots for the full effect.
To make this shot, layer 1/3 ounce each Kahlua, sambuca, and Irish cream in that order in a shot glass.
How Strong is the Slippery Nipple Shot?
Sambuca is not a weak liquor and it is often bottled at 42% ABV (84 proof), which is higher than the average vodka, tequila or gin. With that in mind, any Slippery Nipple made with sambuca is going to be stronger than many mixed shots.
Slippery Nipple: 28% ABV (56 proof)
Slippery Nipple No. 3: 17% ABV (34 proof)
Dirty Nipple: 25% ABV (50 proof)
Nutritional Guidelines (per serving)
Calories
149
Total Fat
0 g
Saturated Fat
0 g
Unsaturated Fat
0 g
Cholesterol
0 mg
Sodium
8 mg
Carbohydrates
27 g
Dietary Fiber
0 g
Protein
0 g
(The nutrition information on our recipes is calculated using an ingredient database and should be considered an estimate. Individual results may vary.)