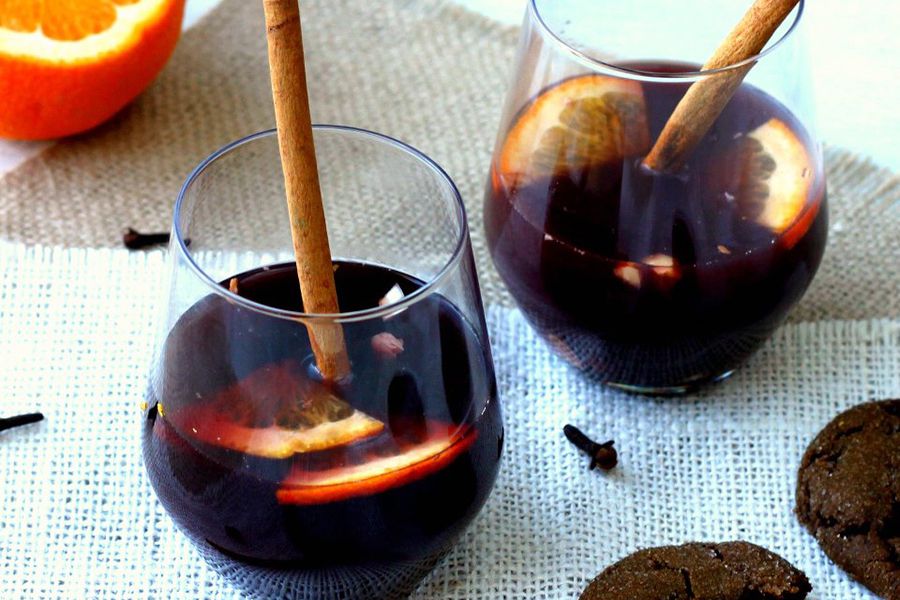 Glogg is a traditional Christmas punch in the Scandinavian countries. This recipe by Morten Sohlberg from New York City's Smörgas Chef is a slight adaptation. It is the perfect warm punch to serve for any holiday party.
There are just a few additions in this recipe from an easier Glogg recipe, but I think you will enjoy them and they really do not create much more work. The ginger, vanilla, nutmeg and brown sugar really bring the warm drink into something spectacular. Also, Sohlberg uses both vodka and either brandy or spiced rum to accent the red wine base, so it has a little more of a punch. The spiced rum is an excellent suggestion because it works nicely against the other spices.
4 cups water
1 cup brandy (or spiced rum)
Peel from 1 large orange (cut into large strips)
2 tablespoons whole cloves
2 teaspoons vanilla extract
1/2-inch piece of fresh ginger (peeled and crushed slightly with the back of a spoon)
1/2 teaspoon freshly grated nutmeg
4 sticks cinnamon
1 750-ml bottle dry red wine
1 cup vodka
2/3 cup dark brown sugar
Heat the water, brandy and spices to boil.
Reduce heat and simmer for 10 minutes.
Add wine, vodka and sugar, and simmer for one minute.
Strain out cloves and orange peel and decant the glögg, leaving other spices behind.
Add raisins and almonds to each glass upon serving.
Recipe Courtesy: Smorgas Chef