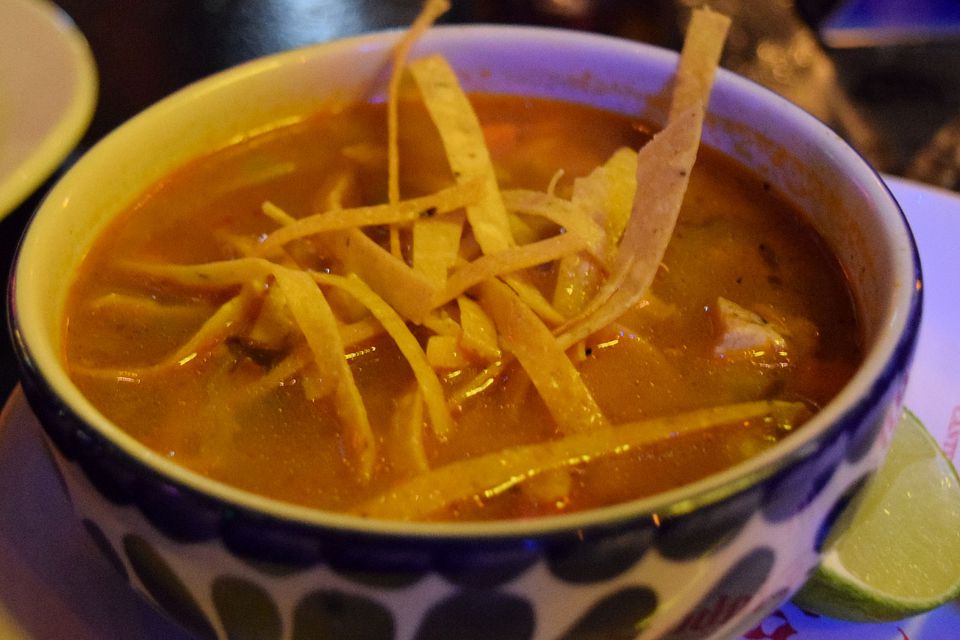 Chicken Tortilla Soup has delicious chicken breast, hearty beans, and flavorful corn all in one pot. And if that weren`t yummy enough, you top this fragrant soup with crunchy tortillas and shredded cheese. The simpler Mexican version of tortilla soup is usually served as a first course in that country; this heartier Southwest rendition makes enough for 4 large servings (to eat as a main dish) or 8 smaller ones to use as a starter.
1 tablespoon vegetable oil
1 small onion (chopped)
4 cloves of garlic (chopped)
2 quarts of good quality chicken broth (homemade or from a can, box, or jar, plus one cup of water)
1/2 cup of uncooked long grain white rice
2 large or 3 medium-sized chicken breasts
1 cup cooked black beans (canned are okay, rinsed)
one cup corn kernels (fresh, frozen or canned, or use hominy*)
1/2 cup chopped cilantro
2 tablespoons chili powder (for making chili soup or ground ancho or other dried chile)
2 teaspoons ground cumin
1 tablespoon dried oregano (or 3 tablespoons chopped fresh oregano)
3 corn tortillas
1 bottle of oil for frying
1 cup shredded queso quesadilla (or cheddar cheese)
4 Mexican limes, halved
*If you are using dried hominy, you will need to simmer it for 2-3 hours until softened. You can do this directly in the chicken broth, adding water when the broth starts to get low, or you can pre-cook them in broth or water. If you use canned hominy (drain and rinse it first) or pre-cooked frozen hominy, you can add it in with the chicken.
In a large pot, heat the tablespoon of oil over medium/high heat and  to sautee the onions for about 2 minutes. Add the garlic and sautee for another minute.
Carefully pour in the chicken broth and water. Stir in the rice.

While the broth is coming to a simmer, you can cook the chicken: cut the breast into chunks and either sautee or boil them until cooked. Once chicken is cooked, shred it by using two forks or by placing the hot chicken in a bowl and using an egg beater on them. (My Kitchenaid mixer works great.)

Add the shredded chicken, beans, corn, cilantro, jalapeño pepper, chili powder, cumin, and oregano to the soup pot. Simmer gently for about 30 minutes to allow the flavors to meld.

While the soup is simmering, slice the tortillas into thin (1/2 an inch or thinner) strips. Heat the oil over medium-high heat and fry the tortilla strips until slightly golden and crispy. Remove and drain on a paper towel.

After the soup is done simmering, ladle it into bowls. Sprinkle equal portions of cheese on the top of each portion, then add an equal handful of the tortilla strips to each.

Serve immediately, as the tortilla strips will become soggy quickly. Pass limes so that each diner can squeeze lime into his or her soup to taste.
Edited by Robin Grose
Nutritional Guidelines (per serving)
Calories
517
Total Fat
22 g
Saturated Fat
9 g
Unsaturated Fat
8 g
Cholesterol
82 mg
Sodium
633 mg
Carbohydrates
47 g
Dietary Fiber
9 g
Protein
34 g
(The nutrition information on our recipes is calculated using an ingredient database and should be considered an estimate. Individual results may vary.)