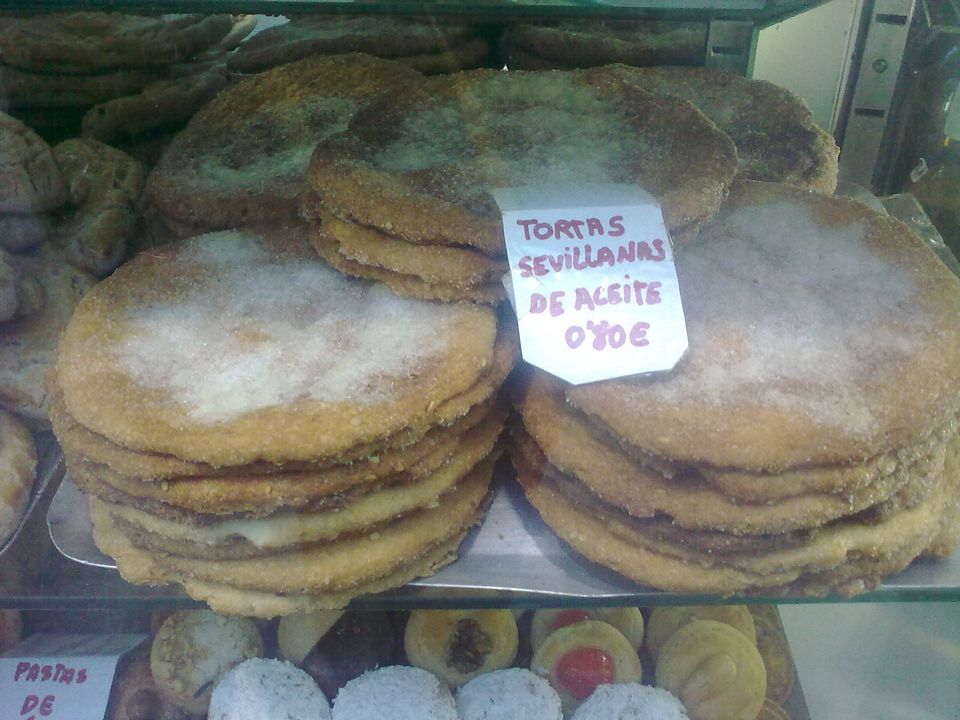 Oil cakes or "tortas de aceite" originated in Andalucia, specifically near Sevilla. They became popular in the 19th century and recently have seen a surge in popularity, especially in the USA. These cakes are a light and healthy alternative dessert, simply made with flour, water, yeast, olive oil and sprinkled lightly with sugar. Prefer a salty "tapa" or snack? Try one of our variations.
1 tbsp. (10 g.) dry yeast
6 tbsp. Spanish virgin​ olive oil
12 tbsp. warm water
1 tsp. salt
2 1/3 cups (300 g. unbleached white flour)
1/4 cup granulated sugar (for topping)
1/4 cup Anise seeds (for topping)
This torta de aceite recipe makes about 8 tortas, 6-inches in diameter.
In a large mixing bowl, mix 6 tbsp. warm water, yeast, salt, and olive oil until yeast is completely dissolved. Gradually add flour, mixing thoroughly. As dough mixture becomes too dry to continue to mix, sprinkle in a bit more water and mix. Repeat until all water is gone and dough has a smooth consistency. Cover the bowl with a kitchen towel and leave in a warm spot for 30 minutes. Note: If the kitchen is drafty, warm oven to 200°F degrees for about 5 minutes, then turn off. Place bowl in the oven for 30 minutes.
Heat oven to 450°F (230°C).
Grease 2 cookie sheets with oil. Turn the dough out onto a floured board. Pinch off a small amount of dough and roll into a ball about 1 ½ times the size of a golf ball, using your hands. Using a rolling pin, roll the ball of dough out until very thin. Roll out the dough to approximately 8-inch circles, then carefully transfer each one from the cutting board to the cookie sheet. Sprinkle with sugar and anise seeds.
Place cookie sheets in hot oven and bake. After approximately 10-12 minutes, if the edges are turning brown, remove them from oven and allow to cool. Serve warm as a light dessert.
Variations
The only limit to the variations of this recipe is your imagination.
Dessert Toppings: Top with sugar and finely chopped almonds or hazelnuts. Finely chopped candied fruit can also be used as a topping.
Salty Toppings: How about serving tortas as a tapa or snack rather than a dessert? Top with chopped sardines, thinly sliced or chopped chorizo. Sprinkle garlic powder, olive oil, salt and pepper for a healthy alternative to garlic bread. Sprinkle a teaspoon of parmesan cheese for extra flavor.
Nutritional Guidelines (per serving)
Calories
180
Total Fat
12 g
Saturated Fat
2 g
Unsaturated Fat
9 g
Cholesterol
0 mg
Sodium
469 mg
Carbohydrates
16 g
Dietary Fiber
2 g
Protein
2 g
(The nutrition information on our recipes is calculated using an ingredient database and should be considered an estimate. Individual results may vary.)