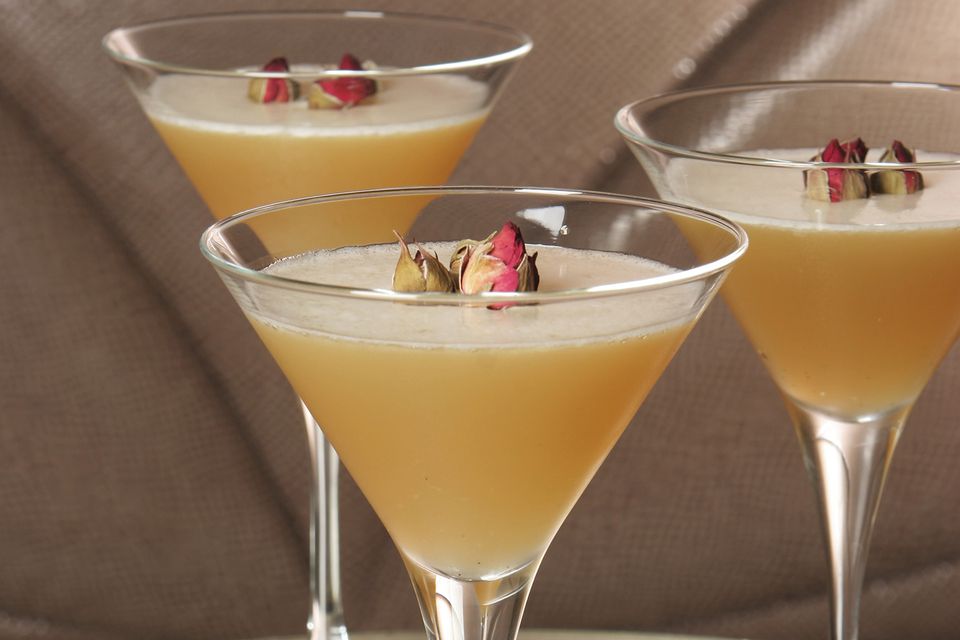 This is an amazing pumpkin-flavored cocktail, though I will warn you that it takes a bit of work. The Spiced Pumpkin Martini is, quite simply, infused Belvedere vodka with a bit of syrup and ginger. It is a delicious drink with a spicy, roasted taste that you can enjoy throughout pumpkin season and makes a fantastic addition to any meal when served with dessert.
The 'spiced syrup' is undefined in the recipe and I think it is open for interpretation. You can create a syrup and add whichever spices you see fit. Those that I would suggest are bay leaves, a couple of cloves, and maybe cinnamon, or use a pumpkin pie spice. A ginger and cardamom syrup (Cardamom Simple Syrup Recipe) may be a good choice, and vanilla-ginger is another nice alternative. In both of these last two I would add a dash of cinnamon and allspice as well.
Muddle ginger with the syrup in the base of a cocktail shaker.
Add pumpkin infused Belvedere and shake with cubed ice.
Strain into a chilled cocktail glass.
Garnish with a slice of ginger.
*Spiced Pumpkin Infused Belvedere Vodka
Roast 500 grams peeled pumpkin (braised with honey) at 400 F for 45 mins.
Remove from oven and place into a small saucepan with bay leaves and cover with 200 ml of water.
Bring to the boil and simmer for 1 hour.
Remove the bay leaves and blend with 500 ml of Belvedere Vodka.
Pass through a muslin cloth to remove pulp and use.
Keep refrigerated.
Recipe Courtesy: Belvedere Vodka
Nutritional Guidelines (per serving)
Calories
207
Total Fat
2 g
Saturated Fat
0 g
Unsaturated Fat
0 g
Cholesterol
0 mg
Sodium
38 mg
Carbohydrates
46 g
Dietary Fiber
6 g
Protein
4 g
(The nutrition information on our recipes is calculated using an ingredient database and should be considered an estimate. Individual results may vary.)