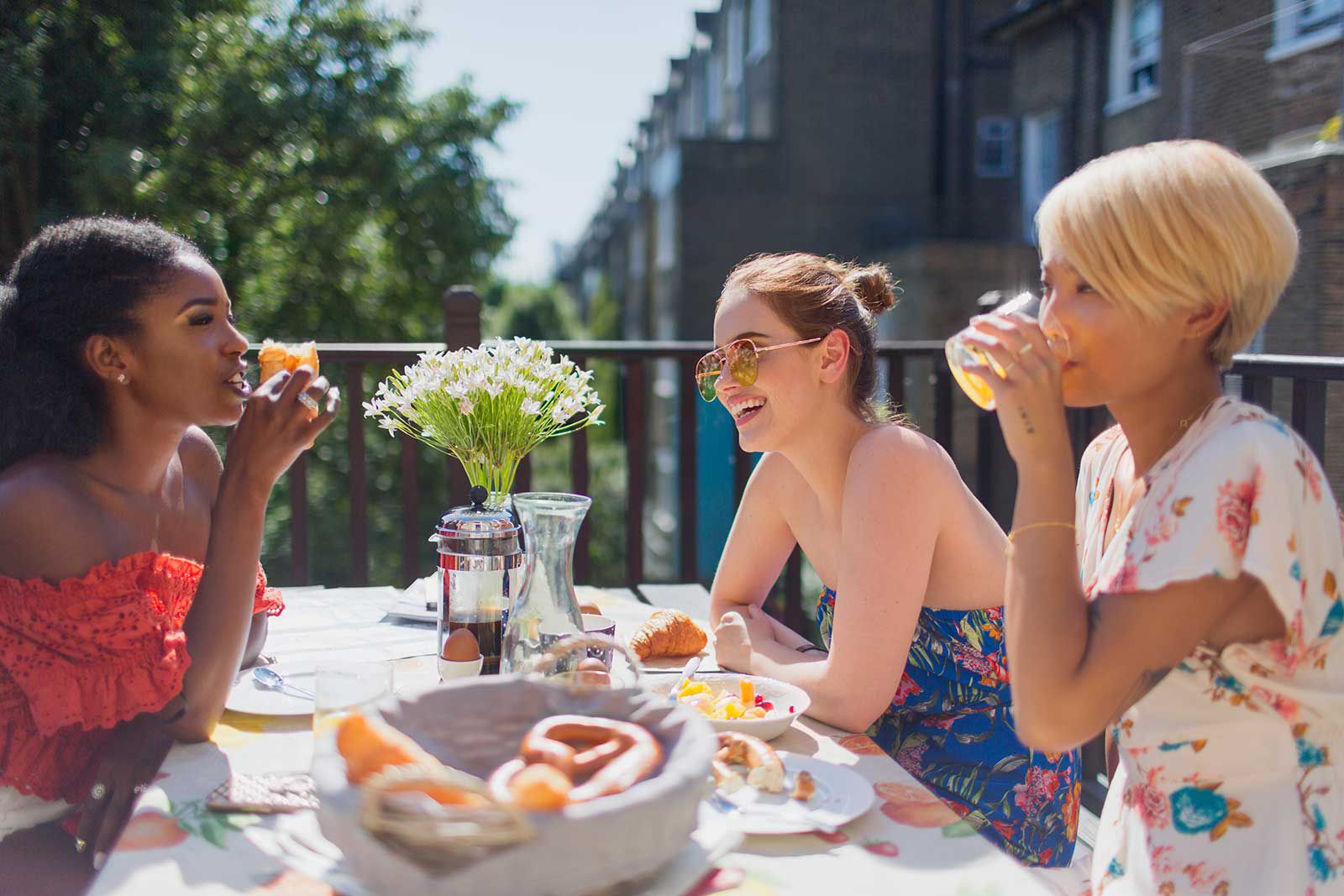 What makes a great brunch? A delicious balance of breakfast and lunch, sweet and savory, healthy and indulgent, and, of course, a great Bloody Mary (or two) made with an exceptionally smooth, family made vodka like Ketel One®. Another key ingredient is the luxury of time. Unlike midweek meals, weekend brunches are all about relaxing, spreading out the midday hours to enjoy food and drinks with your favorite folks. With these simple tips, set-up and clean-up are a breeze, food is simply fool-proof and even memorably novel signature cocktails are sure-fire hits, so you can relax and enjoy every bit as much as your guests. Now who makes a great brunch? You do!
1. Get Ready, Be Set Before Bedtime
Set the table the night before with plates, napkins, silverware, coffee mugs and glasses for water, juice, and cocktails. Then rest easy, knowing you're good to go, even if you choose to sleep in.
2. Make Mary Marvelous
Your guests will admire you for hosting but they'll truly love you for these Ketel One Bloody Marys. Both of these recipes start with Ketel One Citroen, made from 100% non-GMO grain and infused with the essence of four different types of lemons and two types of limes. It makes the perfect, and perfectly smooth, complement to these distinctive mixes of fresh ingredients. If you have room, create a custom Bloody Mary bar with fresh and pickled veggies and spices so guests can fashion their own versions of these two new classics.
For old-school Bloody Mary lovers, try this fresh, spicy upgrade: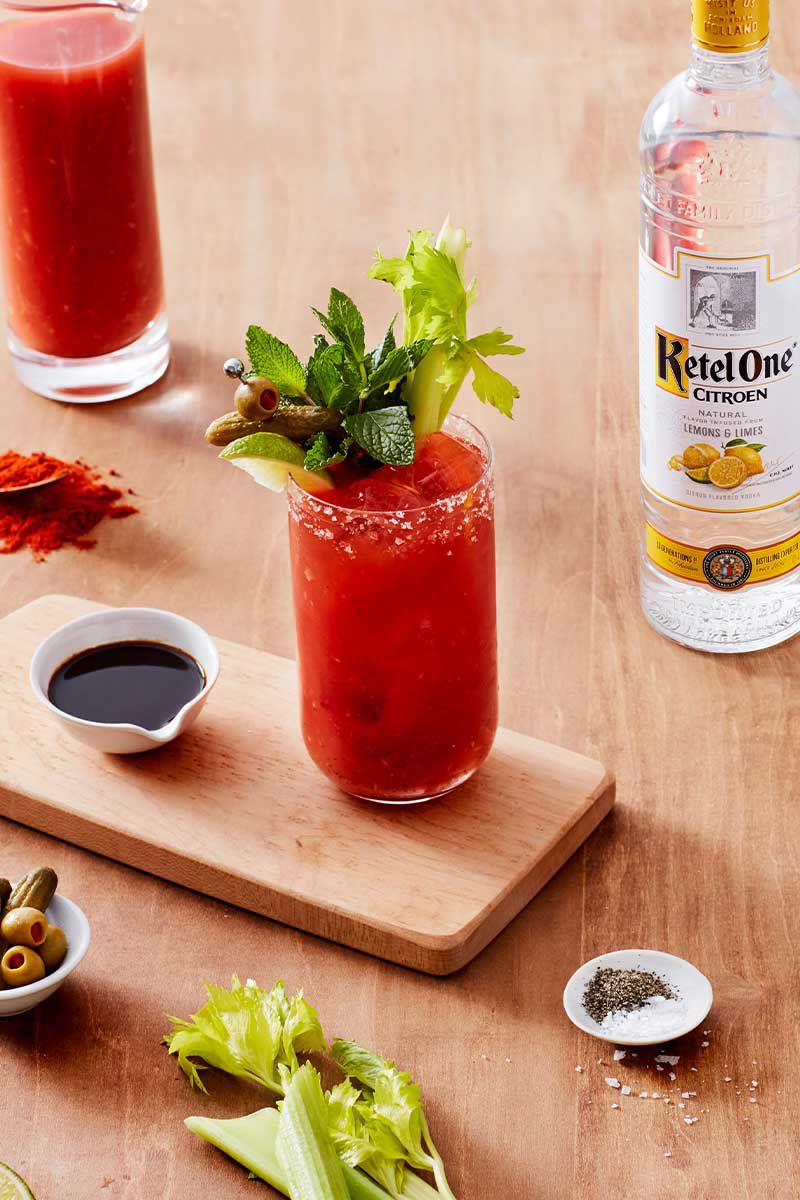 Bloody Mary
You'll need the following ingredients:
1.5 oz. Ketel One® Vodka or Ketel One® Citroen Flavored Vodka
3 oz. Bloody Mary Base
1L Tomato juice
4 oz. Lemon juice
4 tsp. Salt
1 tsp. Black pepper
1 tsp. Smoked paprika
5 tbsp. Horseradish
3 Dashes Worcestershire sauce
7-10 Dashes hot sauce
Create the cocktail:
Combine ingredients in a mixing glass.
Shake with ice and strain into a collins glass filled with ice.
Garnish.
Impress your guests by offering this lower-calorie, lower-carb option that feels more like green juice with a spirited kick: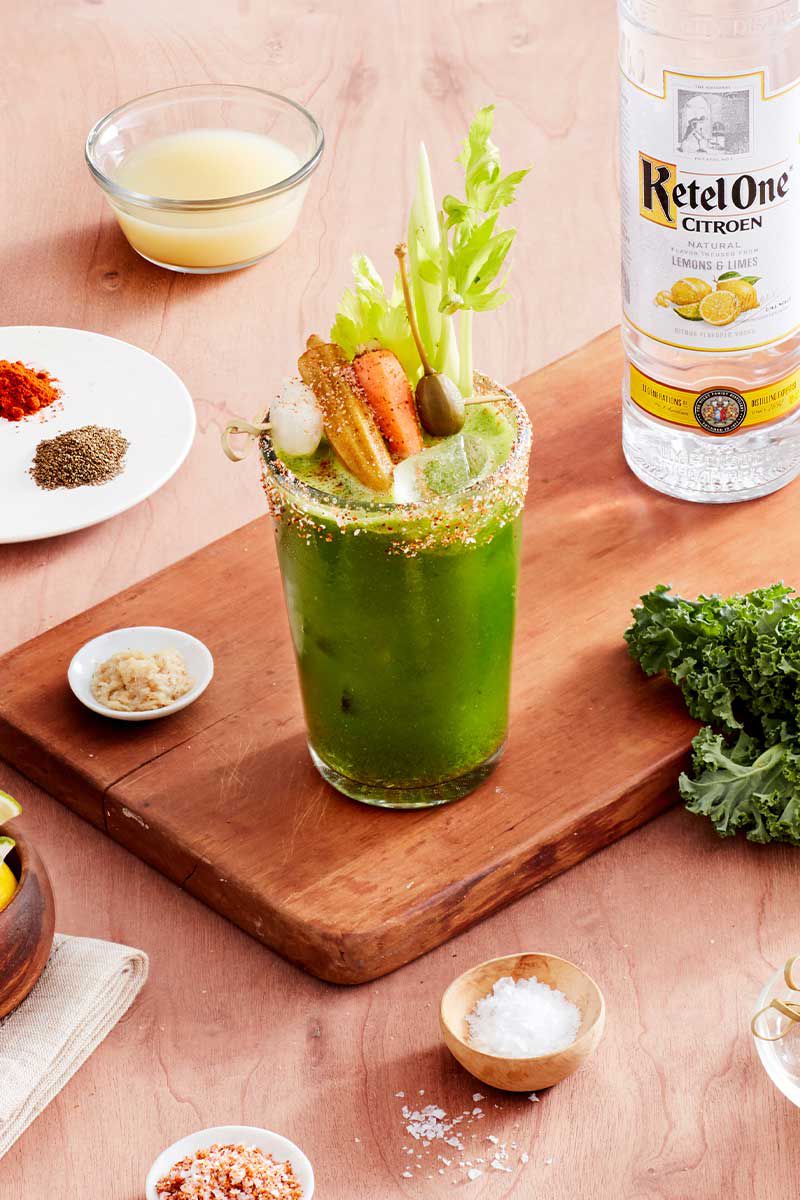 Kale Mary
You'll need the following ingredients:
1.5 oz Ketel One® Citroen Flavored Vodka
1 Bunch of Kale (stems included)
5 Stalks of Celery
1/2 Cucumber
1/4 oz Lemon juice
Pinch of celery seed
Pinch of chili powder
Pinch of smoked paprika
Pinch of salt
Horseradish
Celery Stick garnish
Pickled vegetable garnish
Spiced salt or flavored rimmer
Create the cocktail:
Juice kale leaves, celery stalks and cucumber.
Stir in Ketel One Citroen, lemon juice, celery seed, chili powder, smoked paprika, salt, horseradish.
Dip in spiced salt or flavored rimmer and garnish with a celery stalk and pickled vegetables.
3. Keep Your Menu Simply Fresh, Seasonal, and Healthy
The day before brunch, visit your local green grocer and choose the freshest seasonal ingredients including fresh celery, cucumber, and kale for the cocktails as well as an easy green salad or veggie frittata; buy seasonal berries or citrus for an instant fruit salad and grapes and apples for a simple cheese plate. Look for organic, non-GMO ingredients for whatever you serve as ingredients and garnishes.
4. Find Balance
Everyone wants at least a little something indulgent for brunch, so be sure to include some sweet favorites like muffins and cookies as well as something savory like bacon and bagels, cream cheese, and lox.
5. Stay Out of the Kitchen
Make more time to enjoy your guests by making as much as you can ahead of time. Muffins and banana bread can be baked weeks before, frozen, and thawed and a delicious frittata, quiche, casserole or strata can be made the night before, stored in the fridge and re-heated just before guests arrive.
6. Serve Buffet Style
Encourage guests to serve themselves and mingle by setting everything out on the table alongside stacked dishes and silverware. If possible, set the bar (and custom Bloody Mary station) at the other end of the room to ease the flow. Invite guests to pick or nibble and move around by setting out smaller plates as well as full-size.
7. Welcome Help with Clean-Up
As things start to wind down, avoid the "No No, I've got it" reply to all offers to help clear away and clean. It will keep the conversations going while the dishes get done and allow you to enjoy another Kale Mary as you say your goodbyes.