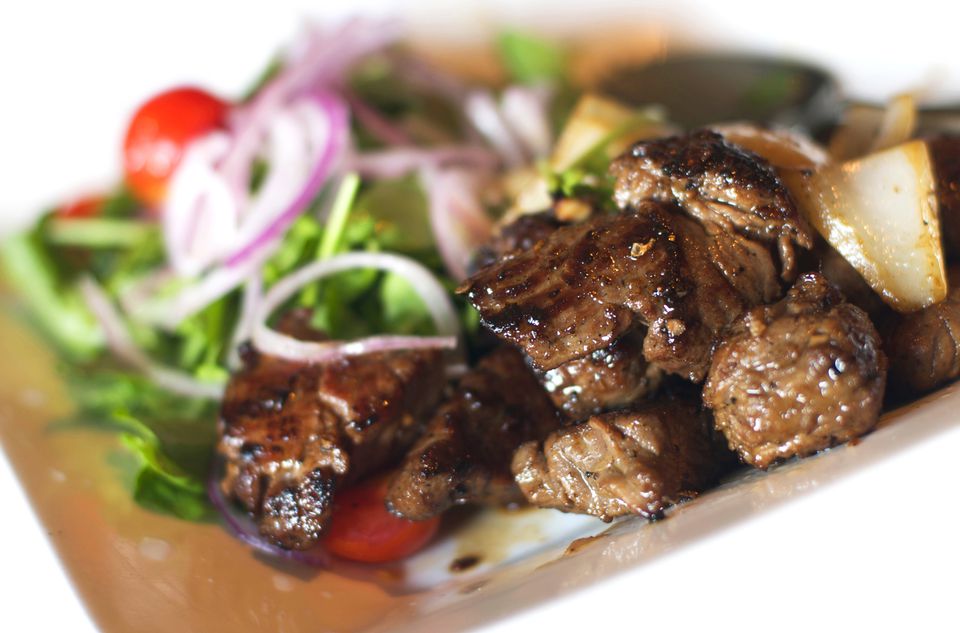 I call this recipe Minute Steak Medley. It's a fun, easy, quick and cheap weeknight meal that takes, at most, 15 minutes to prepare. The idea occurred to me after eating a so-called "beef fondue." If you don't know beef fondue, you fry small cubes or strips of beef in hot oil and then dip them in various sauces.
For this recipe,  I buy a couple of minute steaks (also known as cube steaks), season them simply with salt and pepper, and quickly pan fry them, and then sit down with an array of sauces. You cut off a bite of steak, apply a bit of sauce and eat it. Then another bite and another sauce. The more sauces you have, the better.
Here's a bit about minute steaks or cube steaks. They come from pretty much anywhere on the animal as long as they are very thin, boneless cuts of beef that can cook quickly. Most butchers will agree they are sirloin or round steaks that benefit from cubing (being pounded or run through a machine with square indentations giving its name) or tenderizing. Here are more Cooking for Two recipes you might enjoy:
Edited by Joy Nordenstrom, Romantic Meals' Expert
Try making an assortment of sauces at home with these recommendations from Joy:
Date night has never been so easy and delicious. Just make sure not to overcook the beef, choose at least three sauces for dipping and add a simple side salad to make this a flavorful and nutritious feast. Pair with a playful and light red wine like a Beaujolais or a fruit forward Pinot Noir. However, if you prefer a bit more body, serve a glass or bottle of Merlot from California or Malbec from Argentina. ​​
2 8-ounce minute steaks (cube steaks)

2 tablespoons butter 

Salt and pepper to taste
1 cup sauce of your choice (see below for suggestions)
Season steaks with salt and pepper. Grill one side in a heavy skillet over medium-high heat until browned -- about 3 minutes. Flip steak and cook opposite side just until browned. Don't overcook or you run the risk of toughening the meat.
Remove steaks to plates, add 2 tablespoons butter to skillet and scrape up browned bits over heat. Drizzle juices on steaks.
Serve with your favorite sauces, here are some of my sauces:
A.1. Steak Sauce
Tiger Sauce
Dragon Sauce
Dale's Sauce
Heinz 57 Sauce
Jack Daniels Steak Sauce
Edited by Barbara Rolek