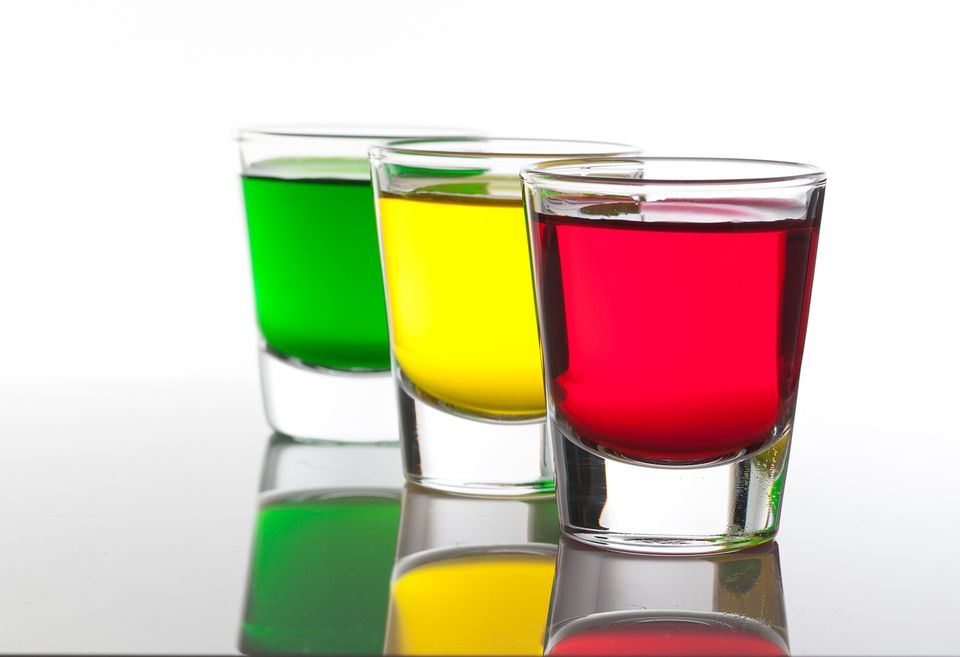 The Stoplight is an interactive and challenging shot (okay, it's actually a line-up of shots). It is a fun addition to any party and it actually tastes good!
The novelty of this shot is the presentation, which resembles a the colors of a stoplight. The drinker needs to drink all three shots, one right after the other, without stopping.
The best part is that it's a flavorful medley of fruits with a little vodka for good measure.
Place three shot glasses in a line on the bar.
Pour one shot of vodka in each.
Add a splash of cranberry to the first shot glass, a splash of orange to the next and a splash of melon liqueur to the third.
Drink right down the row.
Tip: Chill your vodka before pouring the shots to make it taste better and go down a little easier.
How Strong is the Stoplight Shooter?
Let's be honest, the Stoplight is nothing more than a series of three straight vodka shots in a minute or less.
The fruit is just a flavor and color additive, so while it may look pretty, this is not a shooter for the faint of heart.
Rather than do the math, let's just assume that these shots are the bottling proof of your vodka (typically 80 proof). Take it easy or you may end up with a nasty hangover.
Nutritional Guidelines (per serving)
Calories
199
Total Fat
0 g
Saturated Fat
0 g
Unsaturated Fat
0 g
Cholesterol
0 mg
Sodium
1 mg
Carbohydrates
1 g
Dietary Fiber
0 g
Protein
0 g
(The nutrition information on our recipes is calculated using an ingredient database and should be considered an estimate. Individual results may vary.)