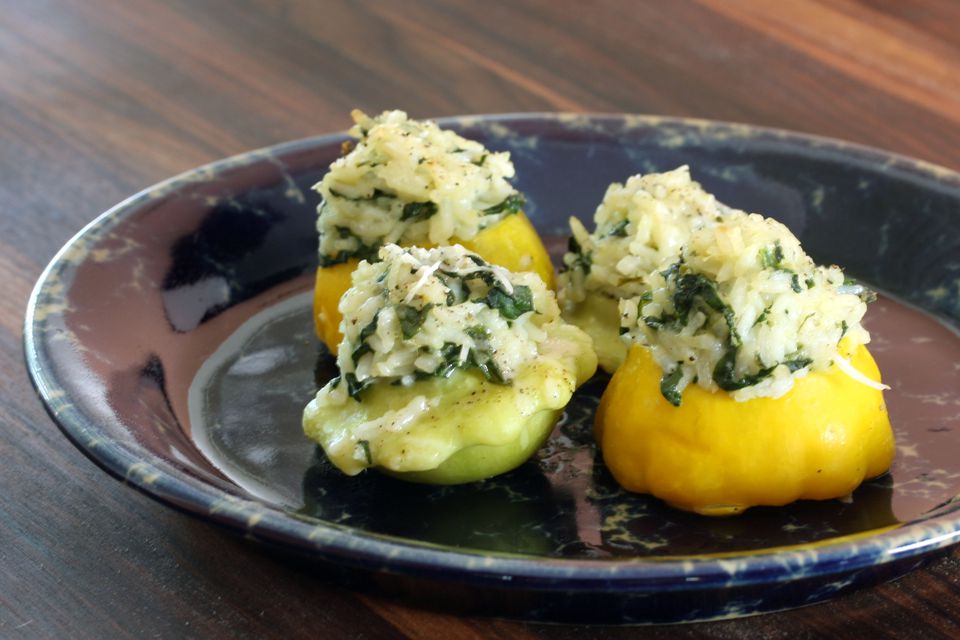 These pretty little patty pan squashes are stuffed with a tasty rice, spinach, and Parmesan cheese mixture. It's an excellent way to serve the small summer squashes. 
Feel free to use brown rice in the stuffing. Small zucchini or yellow squash may be used as well.
12 to 15 patty pan squash
1 tablespoon olive oil
2 green onions, finely chopped
1 clove garlic
2 cups chicken broth, low sodium
3/4 cup long grain white rice
1/4 teaspoon salt
dash black pepper
1/2 cup shredded Parmesan cheese plus more for sprinkling
1 cup chopped fresh spinach, about 3 ounces
Boil squash until just fork tender, about 15 to 20 minutes, depending on size.
Heat oven to 350 F.
Line a 9x13 inch baking pan with foil and spray with nonstick cooking spray.
Heat the olive oil in a medium saucepan or saute pan over medium heat. Add the green onions and garlic, then cook, stirring, for 1 minute.
Add the chicken broth to the onion and garlic mixture and bring to a boil. Add the rice, 1/4 teaspoon salt, and pepper. Reduce heat, cover, and simmer for 20 minutes, or until rice is tender. Stir in the 1/2 cup Parmesan cheese and spinach until the spinach has wilted.
Cut part of the tops off of a squash and scoop out some of the insides, being careful not to break through the sides or bottom of the squash.
Mound some of the rice mixture onto the squash using a spoon or cookie scoop. Repeat with remaining squash and arrange in the prepared baking pan.
Sprinkle each stuffed squash lightly with salt and pepper and sprinkle a little more Parmesan cheese over the squash.
Bake in the preheated oven for 15 to 20 minutes, or until hot.
Nutritional Guidelines (per serving)
Calories
192
Total Fat
5 g
Saturated Fat
2 g
Unsaturated Fat
2 g
Cholesterol
6 mg
Sodium
392 mg
Carbohydrates
30 g
Dietary Fiber
2 g
Protein
8 g
(The nutrition information on our recipes is calculated using an ingredient database and should be considered an estimate. Individual results may vary.)