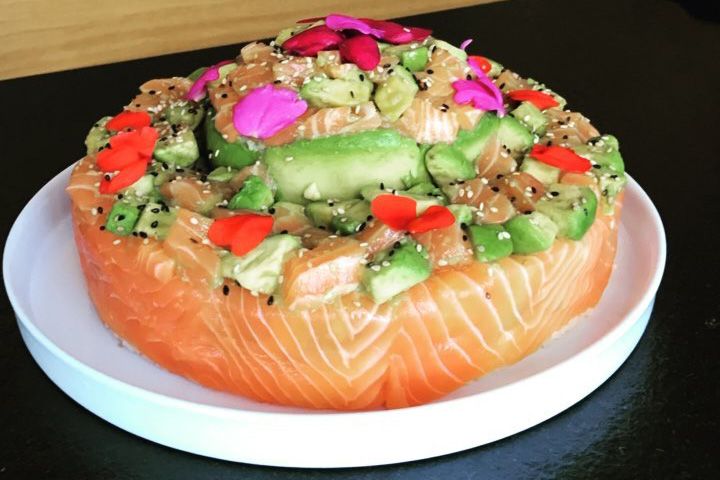 As if sushi wasn't pretty enough, here is a recipe for making a beautiful sushi cake. This recipe calls for smoked salmon, cucumber and imitation crab, but you can be as creative as you like and use your favorite sushi ingredients. This would make an impressive appetizer for a dinner party, or a fun surprise for a weeknight meal. Or perhaps the most creative and unexpected birthday cake! 
Sushi rice is a short-grained Japanese rice that has been cooked and then mixed with vinegar and sugar. You can purchase rice labeled "sushi rice" and then prepare it yourself, which is easy to do.
Layered sushi cakes are also enjoyed on Japanese Girl's Day, or Hinamatsuri, and are called chirashi sushi. These are a bit more intricate and include authentic and perhaps tricky-to-find ingredients. If you are celebrating this Doll's Festival but want to keep it simple, this sushi cake is the perfect solution.
2 tsp. sugar
2 eggs (beaten)
2 tbsp. vegetable oil for skillet
1/2 cup imitation crabmeat
2 tbsp. mayonnaise
1/4 lb. smoked salmon
3 1/2 to 4 cups prepared sushi rice
1/2 small cucumber (cut into thin strips, or 1 avocado, thinly sliced)
Add sugar to beaten egg and stir well. Oil and heat a medium skillet and pour in some of the egg mixture to make a thin omelet. Repeat to make another thin omelet. Thinly slice the omelets into strips.
Put imitation crabmeat in a bowl and mix with mayonnaise.
Place plastic wrap on the inside of a round 6-to-7-inch cake pan and begin the layering. Place salmon slices on the bottom of the cake pan. Put 1/3 of sushi rice on top of the salmon and flatten the rice. Place cucumber strips or avocado slices and imitation crab mixture over the rice.
Put another 1/3 of sushi rice on top and flatten the rice. Spread egg strips on top of the rice, reserving some egg strips for garnish. Put the last 1/3 of sushi rice on the egg strips.
Cover with plastic wrap and put a weight on the top. After 10 minutes, remove the weight and top layer of plastic wrap and cover the cake pan with a large plate and flip over. Remove the cake pan and plastic wrap. Garnish with some egg strips on top of the salmon.
Nutritional Guidelines (per serving)
Calories
898
Total Fat
19 g
Saturated Fat
3 g
Unsaturated Fat
9 g
Cholesterol
142 mg
Sodium
256 mg
Carbohydrates
149 g
Dietary Fiber
4 g
Protein
28 g
(The nutrition information on our recipes is calculated using an ingredient database and should be considered an estimate. Individual results may vary.)