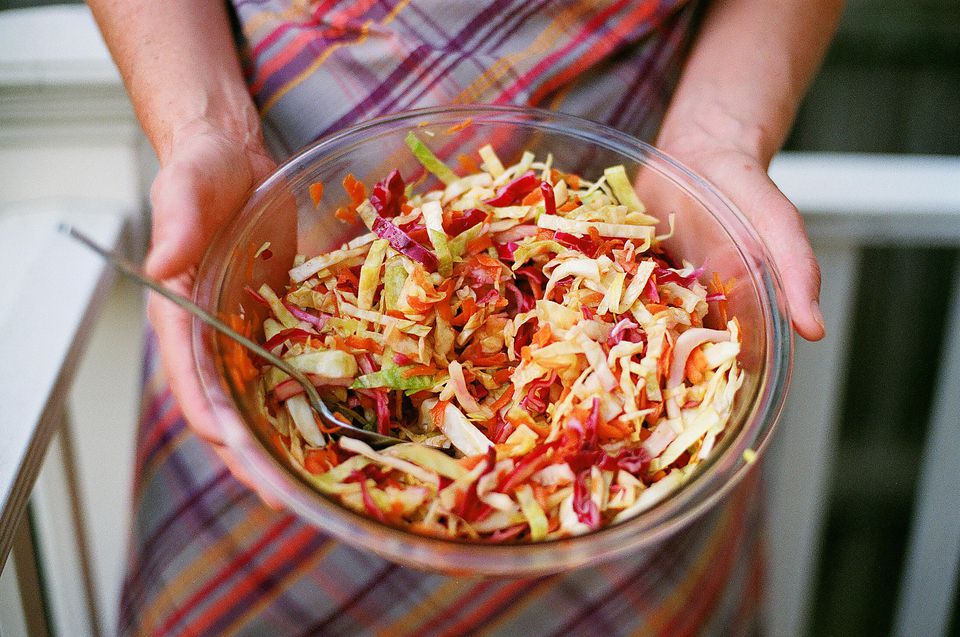 Pickled ginger and the pickling liquid are the key ingredients in this coleslaw. I make my own, following the recipe linked to below, but you can buy it in Asian markets as well. Try to find a brand that's refrigerated; it tends to be of better quality.
If you purchase it in jars, look for a brand that does not contain aspartame, which not only can make the ginger bitter but studies show is a dangerous food additive for many. If you can't find any quality pickled ginger, you can use minced fresh ginger and seasoned rice vinegar instead of the pickling liquid.
Place the cabbage in a small colander or the basket of a small salad spinner. Sprinkle with a generous teaspoon of kosher salt and toss to coat.
Let sit for 20 minutes or so, until cabbage has given up some of its water and has collapsed slightly. Rinse very thoroughly and pat dry. (This step makes for a better texture but is optional. If you skip it, add about 1/4 teaspoon of kosher salt to the slaw.)
Toss the cabbage with the scallion, carrot, red pepper, chile, minced ginger and cilantro. Add the ginger pickling liquid and toss to coat. Adjust seasoning, adding extra salt if necessary.
Red Fresno Chiles
Red Fresno chiles aren't particularly hot. If you prefer a milder slaw, you can leave it out. If you can't find Fresno chiles, you can substitute a small green or red Jalapeno. Keep the heat in for more aphrodisiac effects.
This Recipe's Aphrodisiac Qualities
Cabbage is the star aphrodisiac in this recipe, being touted as an excellent natural Viagra with its ability to increase levels of nitric oxide in the blood stream. An excellent source of vitamins K, C and B6, plus manganese and fiber, cabbage both red and green are beneficial to a healthy diet. Additionally, numerous studies have been conducted showing its anti-inflammatory, antioxidant and cancer-fighting properties. Toss in the peppers, scallions and ginger, which also increase nitric oxide, endorphins and vitamin C, this salad lends itself as a fabulous boost to any meal shared with your partner.   ​
Edited by Joy Nordenstrom
Nutritional Guidelines (per serving)
Calories
83
Total Fat
1 g
Saturated Fat
0 g
Unsaturated Fat
0 g
Cholesterol
0 mg
Sodium
215 mg
Carbohydrates
18 g
Dietary Fiber
6 g
Protein
3 g
(The nutrition information on our recipes is calculated using an ingredient database and should be considered an estimate. Individual results may vary.)