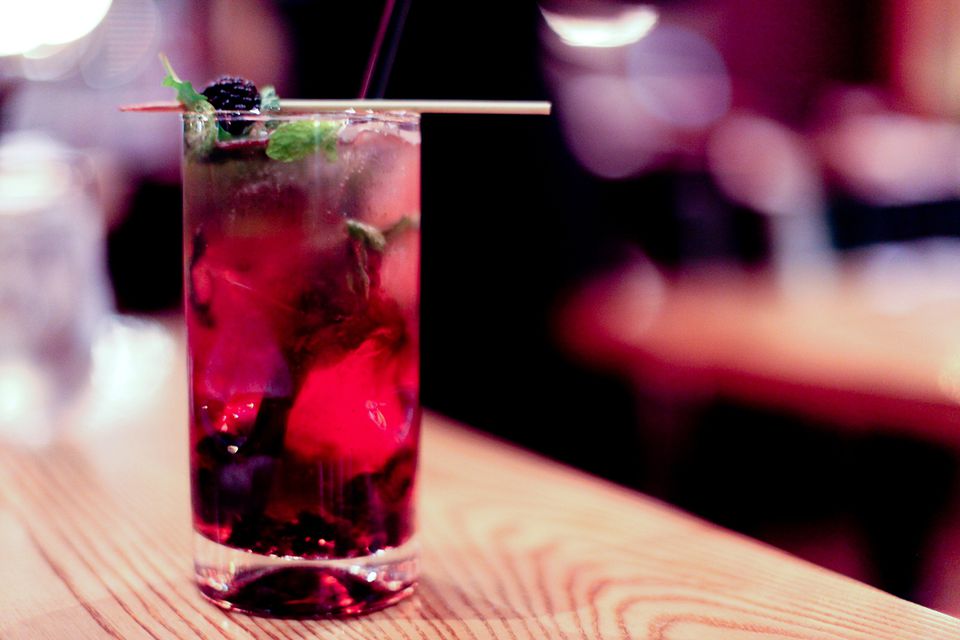 The Bramble is a modern classic and a simple gin cocktail with a fruity flair. The story goes that it was created in 1984 by U.K. bartender Dick Bradsell and it has been enjoyed by many drinkers ever since. It's also a drink that is open to interpretation, so it's okay if you don't have the exact ingredients in the recipe.
The feature of this enhanced gin sour is the crème de mûre, a blackberry liqueur. Though it is not a common bar ingredient, it is nice to have around for drinks such as this. If you have access to a good crop of blackberries, you might even try to make your own. It's as easy as adding the berries to a standard homemade liqueur recipe.
While the Bramble is a fantastic cocktail, it is completely different than the drink known as the Bramble Bar, which has a scotch base. Both make fantastic summertime drinks and they're actually quite nice to serve together so both your whisky and gin loving guests are satisfied.
1 1/2 ounces
3/4 ounce lime juice (fresh)
3/4 ounce
3/4 ounce crème de mûre liqueur
Garnish:
lime wheel and raspberries
Pour the gin, simple syrup, and juice into a cocktail shaker filled with ice.
Strain over crushed ice in a highball glass.
Drizzle the cremé de mûre on top and garnish with a lime slice and two raspberries.
How Will You Bramble?
The Bramble may have a short history, but that doesn't mean that it hasn't been adapted many times. Some recipes will suggest a London dry gin while others opt for the fruitier Plymouth Gin.
You will also find recipes that use either lemon or lime juice. Dale DeGroff uses lime in his recipe in "Craft of the Cocktail" and you will find many other recipes that prefer fresh lemon. If you do switch to lemon juice, use a lemon wheel for the garnish.
I have found that you cannot go wrong with any of these options for either the gin or the juice as this drink is ideal for adapting to your personal taste. 
Transform this cocktail into a frozen ice pop...
No Crème de Mûre? No Problem
Admittedly, crème de mûre is not the easiest liqueur to find, though it is not impossible. If you're having no luck, there are a few options available.
Blackberry Brandy - Many fruit-flavored brandies made today have some amount of sugar added to them, which makes them more of a liqueur than a true brandy. That is actually quite convenient because it makes blackberry brandy a viable substitution for the Bramble's crème de mûre.
Black Raspberry Liqueur - Blackberries and black raspberries have a very similar flavor as do the liqueurs made from the fruits. This means that you can get away with using a black raspberry liqueur like the popular Chambord when making the Bramble.
How Strong is the Bramble Cocktail?
The crushed ice used in the Bramble will melt faster than cubes, but that's okay because the drink needs that extra water. This refreshing cocktail is relatively mild in the cocktail world and weighs in with an average alcohol content of 17% ABV (34 proof).
Nutritional Guidelines (per serving)
Calories
265
Total Fat
0 g
Saturated Fat
0 g
Unsaturated Fat
0 g
Cholesterol
0 mg
Sodium
17 mg
Carbohydrates
32 g
Dietary Fiber
2 g
Protein
1 g
(The nutrition information on our recipes is calculated using an ingredient database and should be considered an estimate. Individual results may vary.)