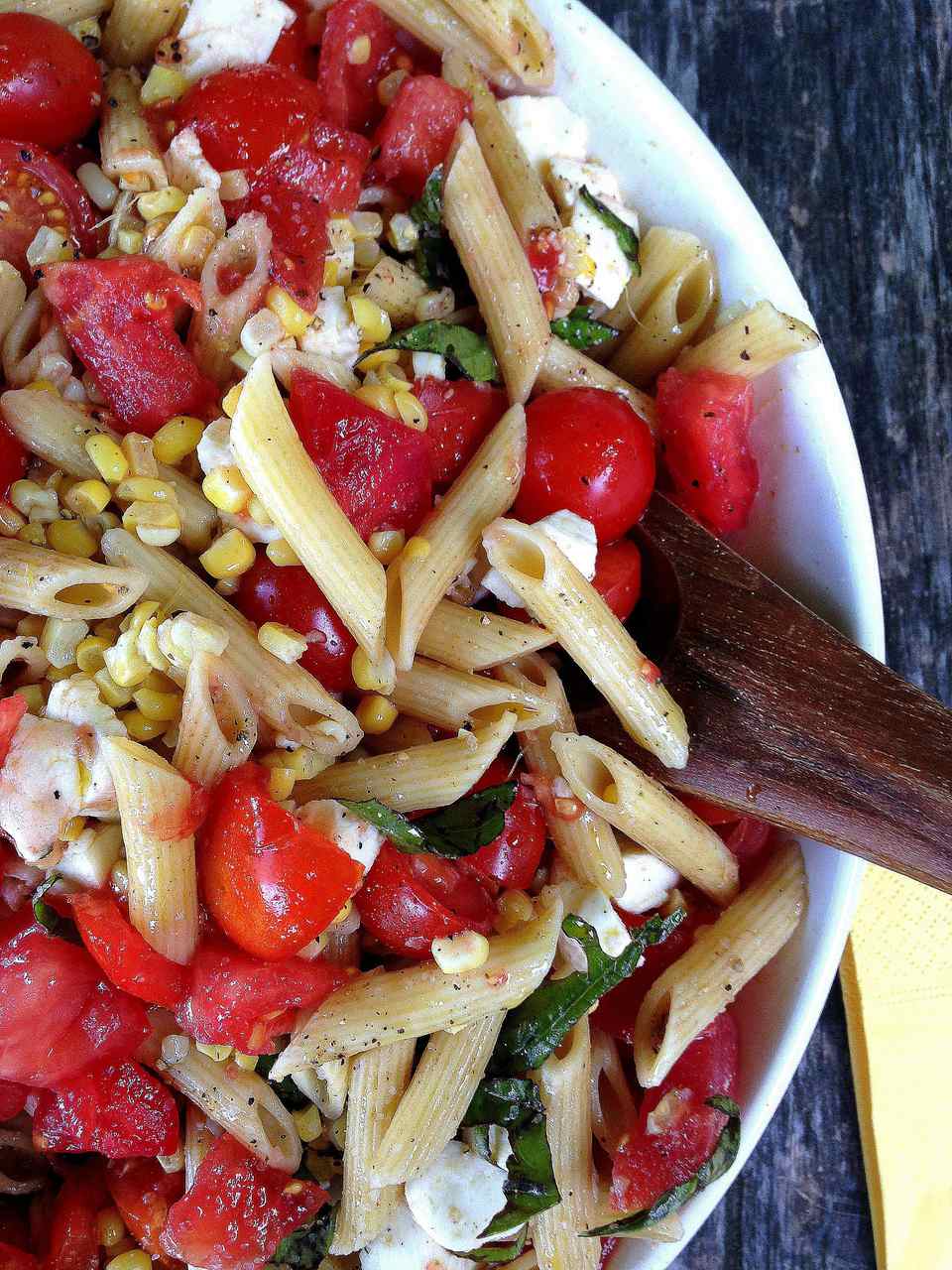 One of the things I need to constantly remind myself of, and relearn and relearn is the art of NOT adding one more thing to a recipe.  It's often so tempting – there's that jar of artichoke hearts!  There's that leftover tapenade!  It's not that these ingredients wouldn't be welcome in the dish…it's that the dish is just perfectly awesome without them.
There is no better time to re-establish this important rule of cooking than the middle of summer.  Tomatoes.  Corn.  Basil.  Hard stop.  And so, I fought the urge to throw another half dozen ingredients into this pasta salad, contenting myself with some fresh mozzarella and a light balsamic olive oil dressing.  And oh, my dears, if this Tomato, Corn, Basil and Mozzarella Pasta Salad isn't summertime eating at its finest, I don't know what is.
There is nothing like a fresh picked tomato from the garden.  Any tomato lover worth their salt (and a sliced tomato sprinkled with salt is one of the best meals ever, full stop) know the flavor of a tomato purchased at a supermarket is incomparable to that of the freshly grown tomato.  So if you have garden tomatoes, this is the recipe to make use of them!  If you don't have a back yard bounty of tomatoes, head to a farmers' market, or check if your supermarket is carrying local tomatoes, as many are these days!  However you get them, this fresh, herby pasta salad will not disappoint.
1 pounds dried pasta, any chunky shape

4 ears fresh corn, shucked

6 cups cubed ripe tomatoes

1 pounds fresh mozzarella, diced

1/2 cups slivered fresh basil leaves

1/3 cups cup extra virgin olive oil

6 cloves roasted garlic (see Cooking Tip)

2 tablespoons balsamic vinegar

Kosher or coarse salt and freshly ground pepper to taste
Bring a large pot of water to a boil.  Generously salt the water and return to a boil.  Cook the pasta according to package directions.  During the last two minutes of cooking add the ears of corn.  When you drain the pasta, take out the ears of corn and let cool.  Quickly rinse the pasta in cool water to stop the cooking, drain well, and turn into a serving bowl.

Remove the corn from the cobs with a knife or a corn stripper.  Add the corn, tomatoes, mozzarella, and basil to the pasta.
In a small container combine the olive oil, balsamic vinegar, salt and pepper and sake.  Pour the dressing over the pasta salad and toss well.  Taste and adjust seasonings (be generous with the salt).  Serve at room temperature.
Nutritional Guidelines (per serving)
Calories
584
Total Fat
25 g
Saturated Fat
10 g
Unsaturated Fat
11 g
Cholesterol
48 mg
Sodium
438 mg
Carbohydrates
70 g
Dietary Fiber
7 g
Protein
25 g
(The nutrition information on our recipes is calculated using an ingredient database and should be considered an estimate. Individual results may vary.)