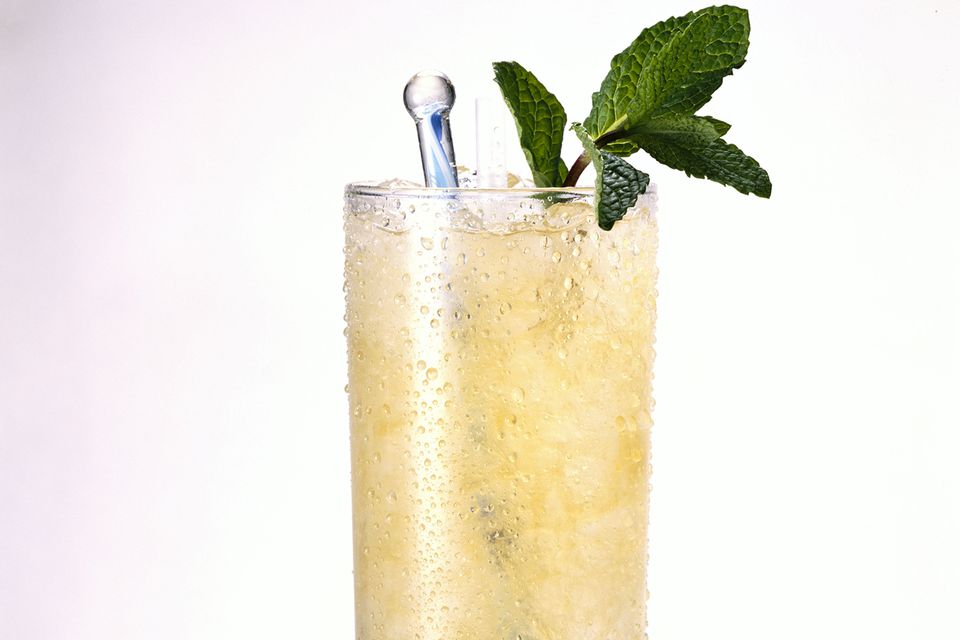 The Tornado is a rather strong mixed drink that makes a great visual impression. It's a fun drink and one that you'll want to share with friends. Honestly, it's not a lot of fun for a single person hanging out alone, but with a table full of Tornados whirling, it can be entertaining.
This drink is very similar to a Long Island Iced Tea, complete with four spirits and a shot of cola, but it is a little different. The manner in which it is prepared and served is integral to the effect and the name behind the drink. When done right, you'll have a miniature twister inside your glass, complete with flying debris.
Stir the liquors in a collins glass.
Add sugar and stir again (but not too well).
Add ice, then cola.
Stir three times and serve with a straw.
Tip: Don't fill your glass completely with cola, but leave a little room on the top. This will prevent splashes and spills as you get your twister spinning.
More Tips for Making a Great Tornado 
The Booze. The Tornado is more novelty than an impressive drink, so there's really no need to spend a significant amount of cash on the liquor that goes inside.
Just as with any of the Long Island style of drinks, use the bottles in your bar's 'well' for this one.
It's All About the Effect. Ingredients really don't matter much with the Tornado because the drink is a spectacle that just happens to be drinkable. That means you should care more about the visual effect and the taste will take care of itself.
Ice and sugar are key to creating this twister in a glass. Notice that the recipe calls for just three ice cubes and that is to allow room for the flying debris to move around freely. When stirred, the ice and sugar will whirl around and it can be quite entertaining (especially if you've had a drink or two already).
We all know that tornados don't last forever and this one is no exception. The serving straw takes care of that and allows the drinker start up the twister whenever they like.
Enjoy it While it Lasts. The ice and sugar will only last so long under agitation. The sugar will eventually dissolve into the drink and the ice will melt faster. We typically fill a glass with ice to slow dilution and those three lonely cubes have a lot of work to do. Add in the swirling and they'll be gone before you know it.
What About the Texas Tornado?
There is also a mixed drink called the Texas Tornado that is a regional favorite in many southern states of the U.S. Various bars seem to have different recipes for it, but most include Midori, Southern Comfort, and amaretto with sour mix and cranberry juice. It's built in the same manner as a Long Island (or, more appropriately, a Long Beach Tea).
Yet, some recipes include other fruit juices or add pineapple or orange to the cranberry.
How Strong is the Tornado?
Comparing the Tornado to the Long Island makes one realize the difference the 1-ounce pours of liquor can make. The more popular drink is typically made with 1/2-ounce of each liquor and it uses much more ice to help out with dilution, so that drink can be as mild as 30-proof.
The Tornado is a different story. We knock the ice down significantly, skip the sour mix, and the liquor volume totals 4 ounces (rather than the 2 1/2 in the Long Island). Even if we pour the same 2 ounces of cola, the Tornado weighs in at a hefty 22% ABV (44 proof). It may not seem like a big difference, but after a few rounds, you will feel it.
Nutritional Guidelines (per serving)
Calories
334
Total Fat
2 g
Saturated Fat
0 g
Unsaturated Fat
1 g
Cholesterol
0 mg
Sodium
17 mg
Carbohydrates
22 g
Dietary Fiber
8 g
Protein
11 g
(The nutrition information on our recipes is calculated using an ingredient database and should be considered an estimate. Individual results may vary.)