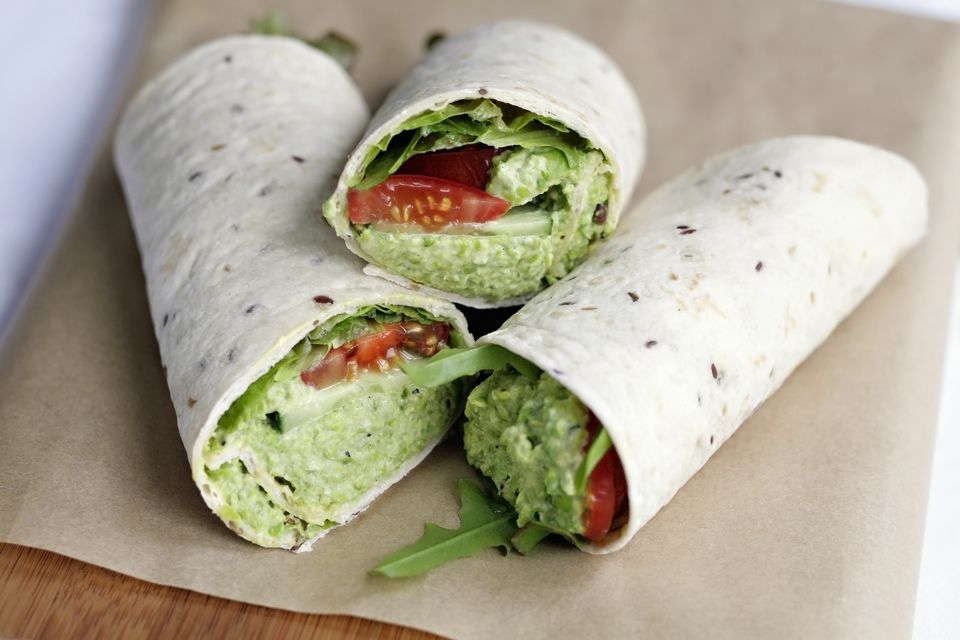 Looking for the perfect way to make an avocado wrap, or use up some leftover guacamole with a wrap sandwich? Try this healthy vegan California-style avocado hummus wrap sandwich recipe with hummus, avocado and sprouts. Avocado toast may be the latest food trend (though I'm not sure why - it's literally just avocado on toast, people, come on!), but vegans and Californians like me who love avocado have been adding avocado to sandwiches, toasts, and wraps for decades.
Here's one of my personal favorite ways to make a simple, healthy avocado wrap for lunch. I'll admit that sometimes, I like to use vegan cream cheese in my wraps, but the hummus is honestly much more healthy and less processed, and just as tasty. And, as noted below, I sometimes add some pickles or pickle relish as well because after avocados, pickles are one of my favorite foods. But maybe that's just me! Either way, enjoy your quick, healthy and vegan avocado and hummus sandwich wrap!
Here's a few more of my favorite vegetarian sandwiches to try.
1 flour tortilla
3 tablespoons hummus
1/4 avocado (sliced thin)
1/3 cup alfalfa sprouts (or a few leaves of green lettuce or both)
2 to 4 tomato slices
Optional: cucumber slices
First, if your flour tortillas have been in the fridge, I find it best to bring them up to room temperature by either letting them sit out for an hour or two, or by popping them in the microwave for just a few seconds (ten seconds, tops). 
Spread the hummus down the center of a flour tortilla. Arrange other ingredients on top of hummus and wrap it up for a quick vegetarian and vegan hummus sandwich wrap.
I also like to add pickles or some pickle relish to my hummus wraps, but not everyone likes pickles as much as I do!
Nutritional Guidelines (per serving)
Calories
1806
Total Fat
54 g
Saturated Fat
16 g
Unsaturated Fat
19 g
Cholesterol
0 mg
Sodium
4,429 mg
Carbohydrates
283 g
Dietary Fiber
30 g
Protein
47 g
(The nutrition information on our recipes is calculated using an ingredient database and should be considered an estimate. Individual results may vary.)