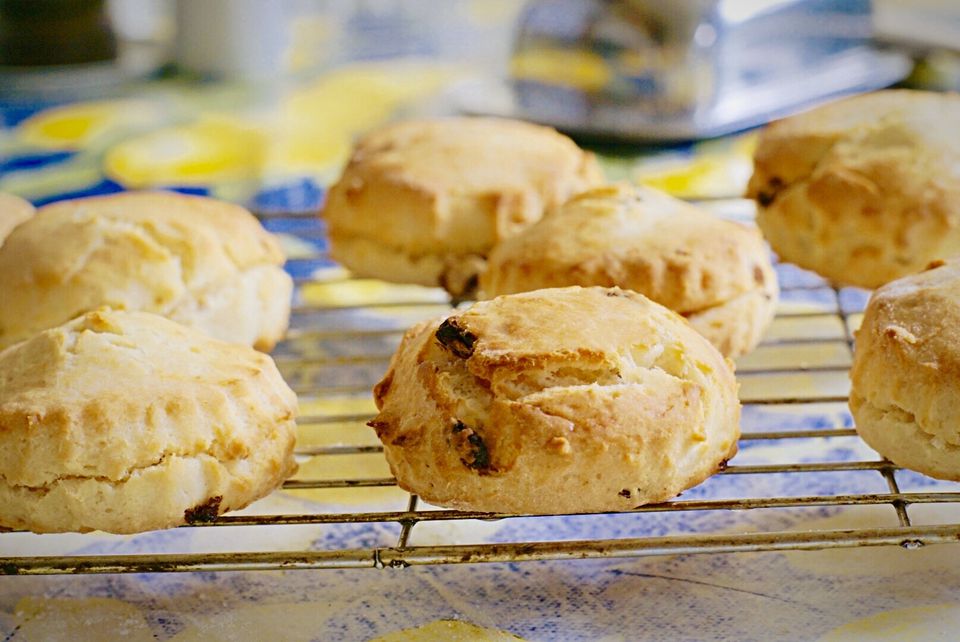 This Vegan Coconut Scone Recipe has a light, crumbly texture and deep coconut flavor thanks to its secret ingredient -- virgin coconut oil.

For an added treat, serve Vegan Coconut Scones with jam and coffee or one of my top ten teas for afternoon tea.
4 cups all-purpose flour (plus extra for kneading the dough. For best results, sift or spoon the flour into the measuring cup)
1.5 cup shredded coconut (sweetened)
2 tablespoons sugar
2 teaspoons baking powder
1/4 teaspoon sea salt
1/2 cup virgin coconut oil
1 teaspoon vanilla extract
1 1/2 cups almond milk (or
soymilk or other
Preheat the oven to 400 degrees.
In a large mixing bowl, mix the dry ingredients (flour, coconut, sugar, baking powder and salt).
Use your hands or a spoon to mix in the virgin coconut oil.
Add the vanilla extract and then slowly mix in the almond milk or other milk substitute, working the dough as little as possible, until you have a dough that just barely sticks together.
Turn the dough out on a heavily floured cutting board.
Knead the dough slightly. When it is done, it should be easy to handle and smooth.
Gently pat the dough to two 1.5–inch thick discs.
Cut each disc into 6 pieces.
Transfer the scones to a parchment-lined baking sheet.
(Optional) For lighter, fluffier scones, place the baking sheet into the freezer for about five minutes immediately before baking.
Bake the scones in a preheated 400-degree oven for 15-20 minutes or until lightly golden. (Optional: Turn pan halfway through baking.)
Cool on the baking sheet.
Nutritional Guidelines (per serving)
Calories
179
Total Fat
15 g
Saturated Fat
11 g
Unsaturated Fat
2 g
Cholesterol
3 mg
Sodium
214 mg
Carbohydrates
11 g
Dietary Fiber
1 g
Protein
2 g
(The nutrition information on our recipes is calculated using an ingredient database and should be considered an estimate. Individual results may vary.)