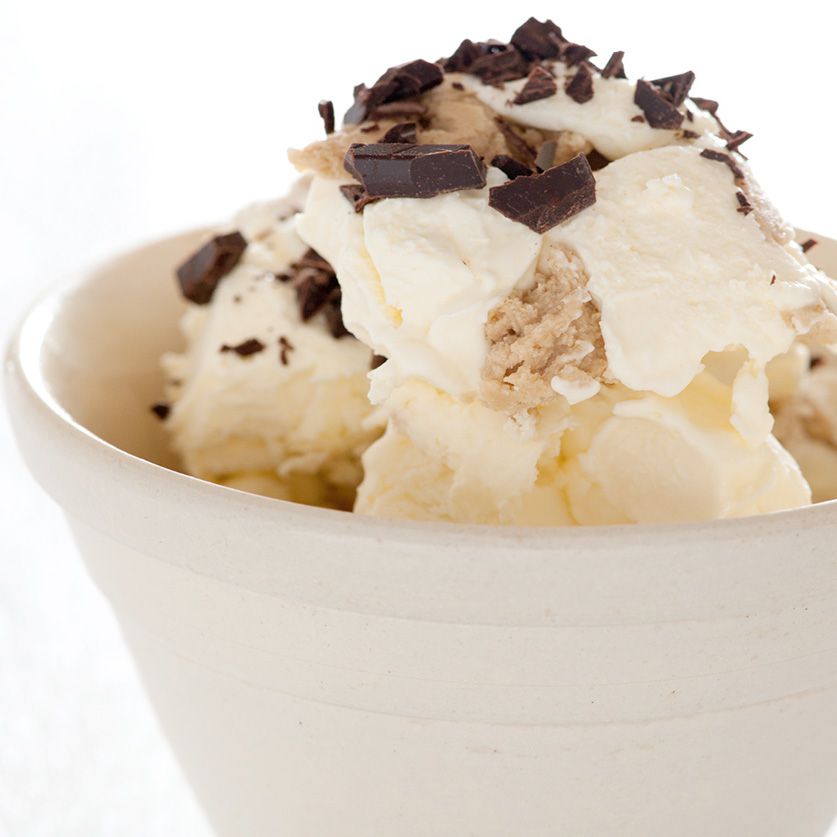 This recipe is the ultimate when it comes to homemade vegan ice creams that defy reason. Pairing vegan cookie dough with vegan ice coconut ice cream is probably one of the best ideas of the last century. Maybe that's stretching it. But you know what I'm saying, which is YUM.
Feel free to use store-bought vegan cookie dough or another favorite homemade vegan cookie dough of your choosing. (I like using the one listed because it doesn't use baking agents, which can leave a funny flavor lingering in your mouth.)
To make this easiest, I often prepare both the cookie dough and the coconut milk ice cream mixture the night before I intend to serve it. That way, I can wake up, turn on the ice cream maker, and get the ice cream finished in the morning so it's ready for later on.
For the Cookie Dough:
6 Tbsp. margarine (for some suggestions of which kind to use, check out my favorite butter substitutes)
3/4 cup brown sugar (light, packed)
1/2 tsp. salt
1 cup all-purpose flour
1 tsp. vanilla
1/4 to 1/2 cup soy milk (or almond milk, or another dairy-free milk alternative)
For the Coconut Milk Ice Cream:
2 cans full-fat coconut milk (such as Thai Kitchen)
3/4 cups sugar (organic unrefined cane)
1 tsp. vanilla
Pinch of salt
Prepare the cookie dough. In a medium-size mixing bowl using an electric hand mixer, cream together the margarine and sugar until smooth. Add the salt, vanilla, and soy milk, and mix again until smooth. Add in the flour and mix until the dough just comes together, adding a little extra soy milk or other dairy-free milk a tablespoon at a time if necessary. Divide the dough in half. Wrap one half in plastic wrap and place in the freezer, and wrap the other in plastic wrap and place in the refrigerator. Let both chill over night.
Make the ice cream. In a large mixing bowl, mix together the coconut milk, cane sugar, vanilla, and salt until the sugar is dissolved. Pour the coconut milk mixture into the bowl of an ice cream maker, along with the refrigerated portion of cookie dough. When the machine is finished or has just a minute or so left, add the frozen cookie dough in pieces to the ice cream and stir just to distribute. Pour into a 2-quart glass container in the freezer for 2 hours or until firm. Allow ice cream to thaw for 5-10 minutes before serving, and serve cold! Ice cream will keep in an airtight container in the freezer for several weeks.
****As with any recipe that is intended for persons with allergies or special diets, make sure to read all of your ingredient labels thoroughly to ensure that there are no dairy-derived ingredients or other ingredients that aren't a part of your particular diet.
Nutritional Guidelines (per serving)
Calories
160
Total Fat
7 g
Saturated Fat
4 g
Unsaturated Fat
1 g
Cholesterol
0 mg
Sodium
221 mg
Carbohydrates
25 g
Dietary Fiber
1 g
Protein
1 g
(The nutrition information on our recipes is calculated using an ingredient database and should be considered an estimate. Individual results may vary.)