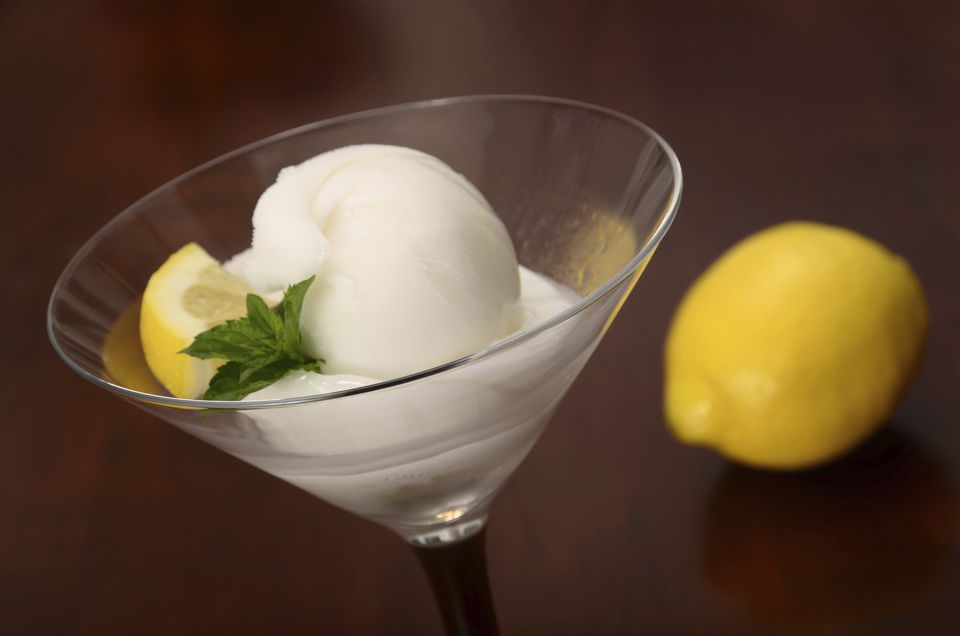 Sorbets are a great way to cool down in the summer and serve as a light, chilled dessert for brunch and lunch. While they are more time consuming than blended drinks, they are worth every minute of your time. This sorbet is lemon-flavored and spiked with vodka, of which we suggest using a premium brand simply because they taste so much better.
In a medium saucepan over medium heat, combine sugar and water until the sugar dissolves.
Add the lemon zest; stir until mixture comes to a boil; reduce heat to low and simmer 5 minutes.
Place a fine strainer over a large bowl and pour syrup mixture through (straining out any zest).
Add lemon juice and vodka to the strained syrup mixture; stir until thoroughly blended.
Ice Cream Maker Method
Transfer mixture to ice cream maker,​ then process according to manufacturer's instructions.
Freezer Method
Pour into a container, cover and place mixture in the freezer. When it is semi-solid, mash it up with a fork and refreeze again. When frozen place in a food processor or blender and process until smooth. Cover and refreeze until ready to serve.
Recipe courtesy: Blue Ice American Vodka
Nutritional Guidelines (per serving)
Calories
287
Total Fat
0 g
Saturated Fat
0 g
Unsaturated Fat
0 g
Cholesterol
0 mg
Sodium
4 mg
Carbohydrates
61 g
Dietary Fiber
0 g
Protein
0 g
(The nutrition information on our recipes is calculated using an ingredient database and should be considered an estimate. Individual results may vary.)